Dhal is a staple in the Gujarati diet. It's eaten most days as the lentils are an excellent source of protein.  Unlike many of the Northern Indian dhals, it's rarely a meal in itself.  It's soupy and so served as an accompaniment to a meal – often sipped with the different 'shaks' and then poured over rice at the end of a meal to fill up on.
Each Gujarati 'girl' has their own variation and style.  Personally I think my Mum's dhal is fantastic because it's what I grew up with though my version builds on her's with the addition of garlic and modernises it at times with the addition of courgettes or spinach for example.
Which type of lentil?
There are so many types of red lentil available nowadays that I thought it might be useful to clarify which specific variety we Gujaratis use to make our dhal.  You need to look for the greasy 'toor dhal'.  It's starting to be sold in UK supermarkets depending on where you live but you will definitely be able to buy it from an Indian supermarket in the lentils aisle.
Wash it thoroughly
This seems like a basic thing to say but before you use this dhal you must wash it thoroughly. I rather enjoy doing this because as you squeeze the lentils together between your hands all the oil starts to come off and you are left with really soft hands.  Run warm water over the dhal, squeeze the lentils between your hands and then let the cloudy water run off.  Repeat until the water is not so cloudy – usually about 8-10 times.
Cook it before use
If you simply boil this dhal it will take hours and hours! So either soak it overnight and then boil it until the lentils are soft and squishy. Or do as I was taught and pressure cook it.  For best results to make sure the pressure cooker doesn't run dry, pour it in, then cover so you have at least double the amount of water.  Bring it to the boil and then put the pressure cooker lid on. When the whistle blows, cook it for 20 minutes and you should have lovely soft squishy dhal.  Drain any excess water away.
The right spice blend
As I said before, every Gujarati woman would have developed her own spice blend to add the dhal to so there is no 'right' spice blend.  I've given you the basic version which you can build your own from.
Start with a tomato 'vaghar'
My mother taught me to first blend the flavours in a tomato 'vaghar' (temper) .  If these are right, you'll get a nice balanced dhal. So I add the above spices to hot oil and then the basic Gujarati spices of turmeric powder, red chilli powder, cumin and coriander powder etc to the tomatoes.  Once these are well cooked through, I add the cooked dhal and let it just simmer.
Thick and chunky or watery and soupy?
Traditionally Gujarati dhal is the consistency of Tom Yum Soup or even tea. I also like it thick and chunky so it's a meal in itself like some of the North Indian dhals. So basically the thickness is up to you.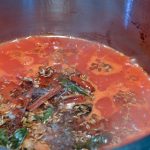 Print Recipe
Dhal
Notes
1 tbsp vegetable oil – I use sunflower
1 tsp small mustard seeds
1 tsp cumin seeds
1 small green chilli – de-seeded and cut in half
1 cinnamon stick
3 cloves
5 or 6 curry leaves
3 large tomatoes – chopped into squares with seeds
250g cooked red lentils - toor dhal
1 tsp salt
3 tsp cumin and coriander (dhana jeeru) powder
2 tsp red chilli powder
1 tsp tumeric powder
1 tsp minced/crushed garlic
1 tsp grated ginger
Zest and juice a medium lemon
Handful of chopped coriander for garnish
To make it
Drain and purée the cooked toor dhal (lentils) and set aside.  Keep the texture like that of mashed potato or hummus.
Put the mustard seeds, cumin seeds, green chilli, cinnamon stick, cloves and curry leaves in a small bowl and set aside.
Heat the oil in a large pan.  It's ready when a mustard seed fizzles and pops.
Now, you may need to use the saucepan lid to protect yourself from the fizzling and spitting as the tomatoes hit the oil so now is a good time to grab it!
Throw the spices into the heated oil.  Let them fizzle and pop for about 20 seconds and then quickly add the tomatoes.
Turn the heat down and add the salt, turmeric, chilli powder, coriander and cumin powder, crushed garlic and ginger and cook out for 2-3 minutes.  Try not to stir too much and if you do, use a fork not a wooden spoon (which the spices stick to).
Add the cooked and puréed toor dhal and then about 500ml water.  More if you want a soupier texture.
Give this a quick stir, cover and leave to simmer on a low heat for 20 minutes.
Turn the heat off and stir in the lemon juice and zest, then add the chopped coriander.
So there you have it.  I hope that has demystified dhal for you. You can build on the flavours here by also adding star anise or dried mangosteen at the beginning with the other seeds.
I'll leave you with this comedy sketch from the brilliant British series of old, Goodness Gracious Me, where the everyday dhal is a welcome distraction for the family.  Enjoy!
[youtube http://www.youtube.com/watch?v=URfpF92l7tg]