So the Great British Bake Off is back on UK television screens brightening up the early part of the week.  I've tuned in every week with fond memories of being in that tent, panicking, cursing, cheering and praying to the oven 'bhagwan'.
I was wondering who the judges would be if they were to ever do an Indian version.  Firstly I would like to put my hand up.  It would be great to be sitting in the judge's seat vs be a contestant – even for a little while! But I think the legend that is Madhur Jaffrey would need to claim the Mary Berry seat and I would gladly bring her all the chai and bhajia she wanted.
But who for the Paul Hollywood shoes? I was thinking Cyrus Todiwala but he's simply too lovely.  I cannot imagine him saying anything negative to anyone.  The same would go for Vivek Singh.  Too nice.  So who is handsome yet could give that serious critical stare?  It has to be the legend that is Tony Singh.  Like Paul, he has links with cooking for the royals and knows a thing or two about baking.
But what to bake? 
But what would the challenges be? There isn't much Indian food which is baked – certainly not in Gujarat.  The only bake I know is Ondhwo.  A lovely rice and lentil based dish which we have as part of a breakfast line up or snack with tea.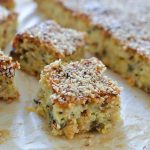 Print Recipe
Gujarati Ondhwho
Notes
300g plain yoghurt
300g cold cooked rice or kichree
350 coarse semolina
 4 tbsp chickpea flour
1 small globe courgette (about 600g)
2 cloves of garlic
1 inch stick of ginger
1 small lemon – zest and juice
2 tsp salt
2 tsp red chilli flakes
handful fresh coriander
350ml warm water
2 tsp Eno fruit salts – you can buy this in most Indian grocers or the chemist!
5-6 tbsp white sesame seeds
For the vaghar (temper mix)
2 tbsp sunflower or vegetable oil
2 tsp cumin seeds
2 tsp mustard seeds
2 small red chillies
10 small curry leaves
2-3 small sticks of cinnamon
2 -3 cloves
2 -3 black peppercorns
To make it
Preheat the oven to 200C.
Line a roasting pan with some greaseproof paper – the one I use is about 12 x 8 inches.
Grate the courgette into a large mixing bowl.
Chop the coriander coarsely and add this too.
Add the chilli flakes, lemon zest, lemon juice, yoghurt, boiled rice or kichree, semolina, chickpea flour and salt.
Give it a good mix to combine all the ingredients and then grate in the garlic and ginger.
Add the water and mix until everything is well combined.
Now make the vaghar or temper mix – heat the oil in a small frying pan and add a few mustard seeds.  When they start to fizzle and pop, add all the other vaghar ingredients and let them also fizzle and pop for a few seconds to release the flavours and then pour into your mixture.
Stir through and then add the eno fruit salts.  You will see this starts to fizzle which is good. It will help the mixture to rise.
Pour the mixture into the lined roasting tin and then sprinkle over the sesame seeds so you have an even topping.
Bake for about 1 and half hours until the top is golden brown.  You want nice dark brown edges as these are the best bits!
Have you come across any Indian recipes that are baked? Who would you like to see if there was an Indian version?