Over the weekend I was teaching at Demuths Cookery School in Bath.  We had a lovely group of students from all walks of life.  I always start my classes with a dish that is so fundamental to Gujarati food –  Kicheree.  It was what I snacked on through my exams, sustained me throughout my pregnancy when I couldn't tolerate richly spiced foods and is now my protein of choice after the long training runs I'm doing for the London Marathon. My problem with kicheree is that I make too much and even after freezing portions for the week there is some left! Well it matters not because there are so many ways to use it and a favourite of mine is Rasiya Muthiya.
Muthiya are basically steamed dumplings made with all kinds of different veg even beetroot greens like my last post.  Instead of steaming and stir frying lightly you can also cook them in a sauce – rather like meatballs.
I've used kicheree as my base today and no vegetables as market day is tomorrow so it's pretty bare. Because I need any extra protein I can get I have made my sauce using coconut milk so this is a super rich and creamy version which I guess would be akin to an English 'korma'.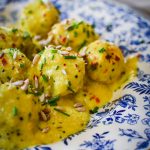 Print Recipe
Coconut Rasiya Muthiya
Notes
For the muthiya
350g kicheree (or you can use day old plain boiled rice)
6 tbsp chappati flour
1 tsp salt
1 tsp red chilli powder
2 tsp coriander and cumin powder - dhanna jeeru
1/2 tsp turmeric powder
2 tbsp vegetable oil. I used sunflower
2 tbsp lemon juice
For the sauce
2 tbsp vegetable oil
1 tsp mustard seeds
1 tsp cumin seeds
a few curry leaves
1 400ml tin coconut milk
2 tbsp chickpea flour (gram flour)
2 inches ginger, finely grated
1 tsp salt
2-3 green chillies, cut into 1 cm chunks
2 tsp coriander and cumin powder
For the garnish
2-3 tbsp fresh coriander, chopped or chives work nicely too
dessicated or freshly grated coconut
sunflower seeds - optional
juice of half a lemon
red chilli flakes
First make the muthiya by mixing together all the ingredients and forming a dough.  I do this by mixing first the dry ingredients into the kicheree and then pouring in the wet ingredients and mushing everything in between my hands.
Lightly oil your hands with some oil and then take a tablespoon of the dough mixture and roll it firmly into a ball.  You need to make it quite compact so it doesn't fall apart during cooking.  This mixture makes about 20 balls.  Set them aside once done.
To make the sauce you'll need a pan with a lid wide enough to fit all the muthiya you've made on the base.  Put the oil in the pan and then heat on a gentle flame until a mustard seed starts to fizzle and pop.
Once it gets to that stage add the rest of the mustard seeds, the cumin seeds and the curry leaves.  Let them fizzle and pop for a few seconds and then add the coconut milk.  Pour some water into the empty tin and then scrape the sides so all the little bits of remaining coconut are not wasted.  Pour this into the pan.  Do that last bit again.  This is your sauce.
Add the chickpea flour and gently whisk the liquid using a balloon whisk until all the flour is evenly combined and there are no lumps.
Turn the heat to a very low simmer and then add the rest of the ingredients.  Whisk again to combine and then place the muthiya gently into the liquid.
Spoon over a little sauce on each of the muthiya and then cover the pan with the lid. Cook for 15- 20 minutes to steam the muthiya through and then squeeze over the lemon juice and serve sprinkled with some coriander and coconut.
I didn't have any coriander handy today so I used fresh chives from my garden and for even more protein I tossed over a handful of sunflower seeds.