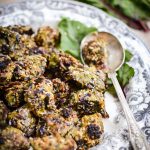 Print Recipe
Beetroot Green and Cabbage Muthiya
You'll need
250g cabbage, shredded
300g beetroot greens or spinach, finely chopped
250g gram flour (chickpea flour)
250g chappati flour
2-3 tsp salt - I know it sounds a lot but the steaming process removes a lot of the salt flavour
3 tbsp dessicated coconut
1 inch ginger, finely crushed
5 small green chillies, finely chopped
red chilli powder to your taste
Juice of a lemon
3 tbsp vegetable or sunflower oil
5 curry leaves
2 tbsp sesame seeds
chopped fresh coriander - to your taste
To make them
Mix the cabbage, beetroot greens, flours, coconut, spices, ginger, chillies, lemon and salt in a large mixing bowl and then using your hands add enough warm water to form a stiff dough.  You need to be able to make small round balls that will hold their shape so add the water a little at a time.
Once you have the right consistency form balls about the size of a golf ball.  My mother makes sausages but I find that the balls are easier to fit in the steamer I have.
Steam the balls for 30 minutes and then leave them to cool completely.  You can eat them as they are dipped in a little oil or with plain yoghurt or follow the next steps to stir fry them.
Chop the dumplings in half and pop them into a bowl.
Heat the oil in a wok and add the sesame seeds and curry leaves.  When they start to fizzle, add the chopped dumplings and toss together so they are all evenly coated.  It's ok if they stick a little and get crispy.
Add the fresh coriander and serve with plain yoghurt or a cup of chai.