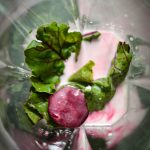 Print Recipe
Beetroot, Cumin and Coconut Soup With Fried Onions
You'll need
1 large onion - mine was about the size of a tennis ball3 tbsp olive oil
5 tbsp sunflower oil
4 medium beetroots with their leaves - I allowed one beetroot per person
3 heaped tsp ground cumin
5-6 fresh curry leaves
1 tsp small black mustard seeds
2 tsp cumin seeds
1.5 tsp salt - it sounds like a lot but you need it for the beetroot
3 tsp coriander and cumin powder (called dhana jeeru in Indian grocers)
1 tsp turmeric powder or use about a 1 inch stick of fresh turmeric finely crushed
2-3 tsp red chilli flakes
To make it
Preheat the oven to 180C
Chop the onion into thin slices and pop them into a frying pan with 3 tbsp of the sunflower oil.  Leave them to fry off and brown on a very low heat.
Meanwhile, take the leaves off the beetroots, wash and set aside.
Scrub the beetroot - skin on and then cut it into large chunks and place them on a roasting tray.  I know where my beetroot is from and the skins are quite thin so if you prefer you can peel it before roasting.
Pour over the olive oil and then toss them lightly so each chunk is well coated.
Sprinkle over the ground cumin and roast for about 20 minutes til soft.
While it is roasting, prepare the coconut broth.
Heat the sunflower oil in a large saucepan and add in a few mustard seeds.
When the seeds start to fizzle and pop, add the rest of the mustard seeds, the cumin seeds and the curry leaves in quick succession.  Be careful as they may spit at you.
Pour in the tin of coconut milk.
Fill the tin up half way with water, give it a slosh and pour that in too.
Add the salt, coriander and cumin powder, turmeric and chilli flakes and leave the broth to simmer on a medium heat for about 15 minutes.
Take the soup off the heat, add the roasted beetroot, beetroot leaves and blitz.  I used my Froothie because the jug tolerates high temperatures really well and gets the soup to a really fine consistency.
Check for salt and cumin seasoning and add more if you wish.
Your onions should be nicely browned by this point.  so pour the soup into your serving bowls and then evenly split the onions over each one.