Having two little girls in primary school means I make A LOT of cupcakes.  They had their summer fete recently and duely placed their requests for flavours not realising Mummy stays up rather late to make it all and  Cherry the Cake Fairy doesn't just come along and deliver them! Anyway, these are very "grown up" cupcakes which are actually quite light so it's OK to have more than one!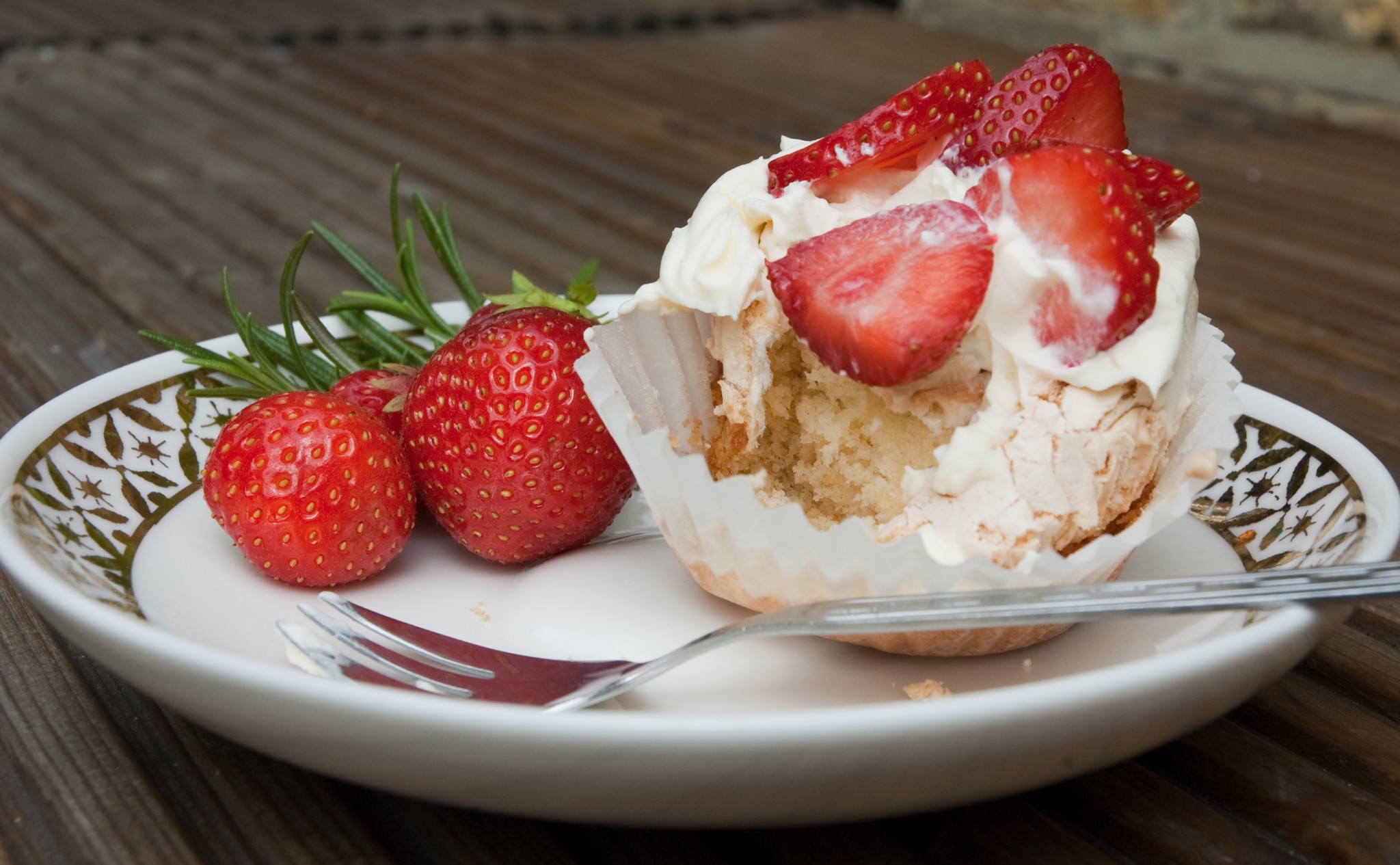 You'll need
100g soft unsalted butter

125g plain flour

25g cornflour

300g caster sugar

4 eggs

1.5 tsp baking powder

2 tsp vanilla extract

3 tbsp good quality cocoa powder

2 tbsp whole milk

1 medium sized tub of double cream

1 punnet of strawberries
To make it
Preheat the oven to 180C
Set out a cupcake tray with cupcake cases and set aside.
Weigh out the flours, baking powder and 2 tsbp of the cocoa powder into a bowl and set aside.  (if you want a more chocolately sponge add 1 more tbsp of cocoa powder and allow a little more milk below for loosening).
Separate the eggs and set aside.
Cream the very soft butter with 100g of the caster sugar until it's light in colour and fluffy in texture.
Beat the egg yolks into the creamed mixture one by one until all combined.
Stir in the vanilla extract and then fold in the dry ingredients very gently.
Finally stir in the milk to loosen the mixture.
Divide the mixture between the cupcake cases and level it out with a knife or the back of a spoon.
Now make the meringue topping by whisking the egg whites until soft peaks form and then add the  remaining caster sugar one spoonful at a time until it's all combined.
Sieve in 1 tbsp of cocoa powder and fold it in gently.
Spoon the meringue on to the cake mixture in the cupcake cases and then flatten the middle so it's like a small crater.  (Piping the meringue doesn't work in this recipe because you need a flattish surface so rest the cream and strawberries on).
Bake for 35-40 minutes – the meringues should be darkened and the sponge cooked.  Some may have oozed out from under the meringue but it doesn't matter as it will all be covered in cream anyway!
While the cupcakes are cooling, whisk the double cream until thick and gloopy.
Roughly slice and chop the strawberries – I allow about 3 medium sized ones per cupcake and then maybe a few more per portion to accompany.
Once the cupcakes have cooled, spoon the double cream into the meringue crater and then place the strawberries on top on that.   You could sprinkle with some grated chocolate on top too.
This is a perfect "me time" treat with a nice cup of Darjeeling 🙂