This is a really easy variation on traditional hummus and you could substitute the sweet potato with butternut squash for an equally lovely accompaniment with the cumin bread rolls.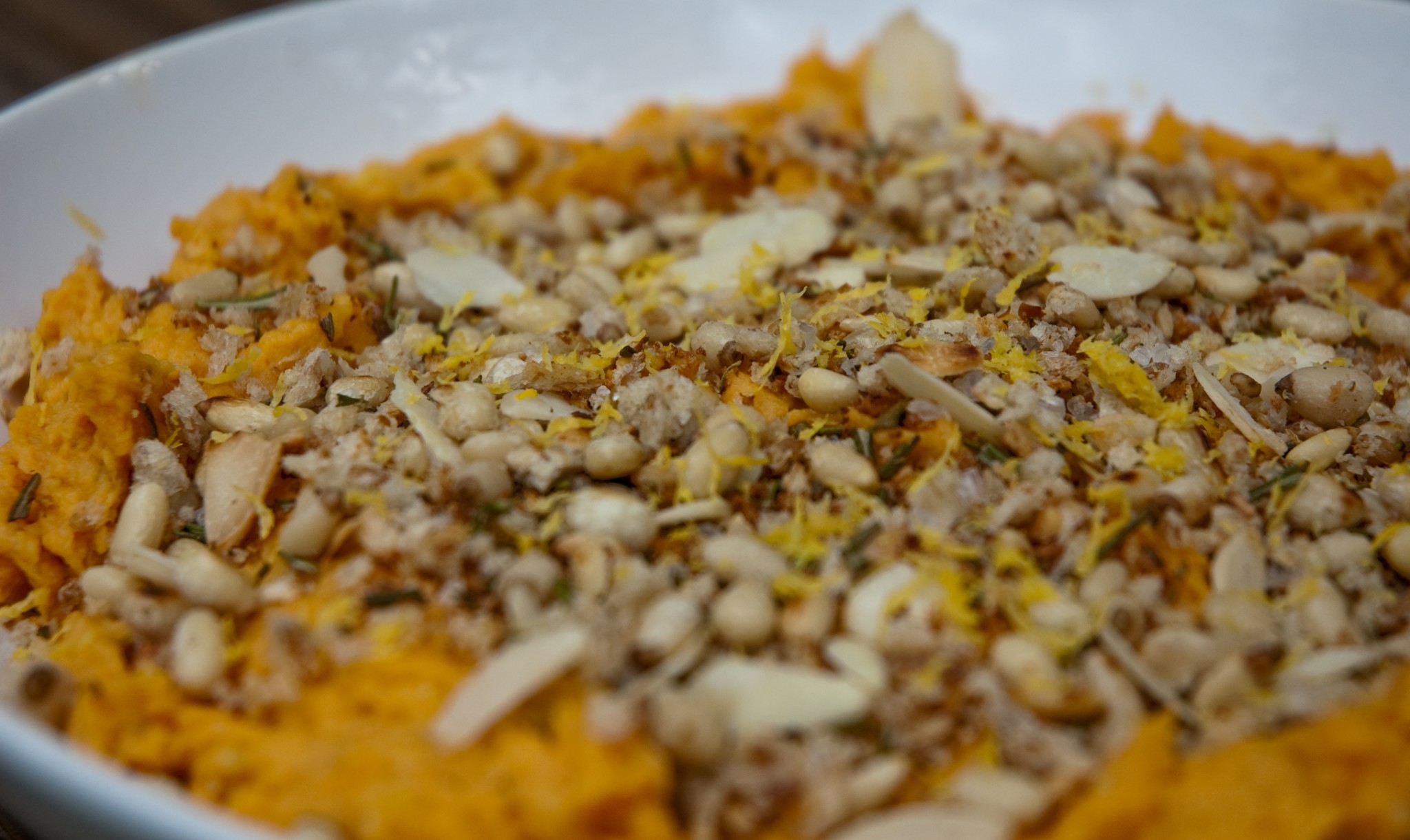 You'll need
For the hummus
2 large sweet potatoes
4 cloves of garlic
2 heaped tbsp tahini
2 tsp ground cumin
 4 tbsp extra virgin olive oil
1 tsp table salt
1 large lemon – juice and zest
1 large spring of rosemary
For the topping

2 tbsp extra virgin olive oil
3 tbsp pine nuts or flaked almonds
3 tbsp breadcrumbs
1 tsp coarse sea salt
1 large sprig of rosemary
half a red or green chilli (optional)
half a large lemon – juice and zest
To make it
Preheat the oven to 200C.  (If you're oven isn't on for bread rolls, you can save simply steam the same combo for speed).
Cut the sweet potato into large chunks and place them on a baking tray.
Drizzle over 2 tbsp of the olive oil and bake in the oven with a large sprig of rosemary and the whole garlic cloves in their outer skins for about 20 mins or til just tender.
Once the sweet potato is cooked, remove the rosemary stalk and mash everything else in the baking tray.
Transfer this to a bowl and add the tahini, cumin, salt, lemon zest, lemon juice and remainder 2 tbsp of olive oil and mix it all up.
At this point have a taste.  You might want to add more salt or cumin or crushed garlic or lemon juice – go for it!   It's your hummus!
Now for the topping.  
Finely chop the rosemary and bruise it lightly in a pestle and mortar.
Put the rosemary, breadcrumbs and pine nuts in a small frying pan and toast it all til lightly brown.
Turn the heat off and stir in the lemon zest and sea salt.
Assemble it for serving

Take your serving platter of choice and spoon in the hummus.
Flatten this slightly in the middle so it's like a crater shape and then drizzle the olive oil on top.
Sprinkle the toasted topping over the oil and then finally the lemon zest and the finely chopped chilli.