This is a lovely creamy baked cheesecake which is based on an Indian rose flavoured drink called 'Falooda'.  It's like a milkshake and knickerbocker glory rolled into one.  Rose flavoured milk, a scoop of vanilla ice cream, jelly chunks and a sprinkling of nuts.
I like a thick crumb crust but if you prefer a thin one, just halve the quantities below.  Also, I've never tried this with rosewater because I always have rose syrup on the shelf.  You can source it from Indian food stores.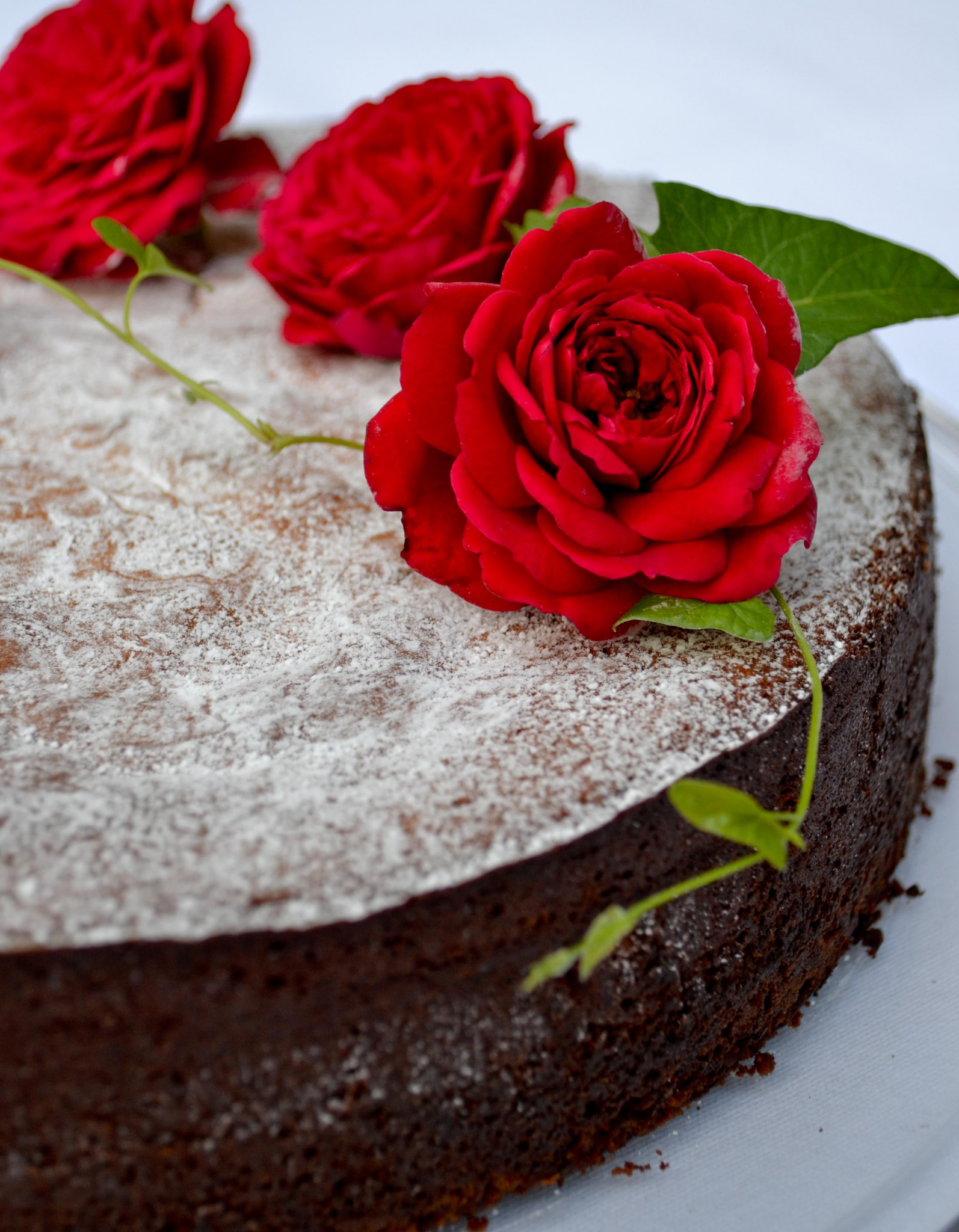 You'll need
For the crumb crust
200g digestive biscuits
140g coarsely ground pistachio nuts
140g soft unsalted butter
2 tbsp honey
2 tbsp plain flour
 For the cheesecake
300g cream cheese
140g caster sugar
60g soft unsalted butter
60g ground almonds
60g fine semolina
2 eggs
4 tbsp rose syrup
For serving and decoration
1 tbsp icing sugar for dusting
Fresh roses or rose petals
Equipment
25cm loose bottomed cake tin
KitchenAid/Electric Mixer
To make it
Preheat the oven to 190C.
Grease and line the cake tin and set aside.
Make the crumb crust.  Melt the butter and set aside.
Crush the digestive biscuits using your preferred method.  I give them to my daughter in a food bag, seal it and then ask her to give it a good bashing with a rolling pin. She is more meticulous about getting all the lumps out than me!
Mix the nuts, flour and honey into the breadcrumbs and then add the melted butter until it's all well combined.
Press this down into the base of the cake tin.
Make the cheesecake mix. Separate the eggs and set aside.
Beat the butter, caster sugar and cream cheese in a KitchenAid (or with an electric mixer) with a paddle attachment until it is soft and fluffy.
Beat the egg yolks into the mixture until combined.
Fold in the ground almonds, fine semolina and rose syrup.
Whisk the egg whites in a separate bowl until you get stiff peaks and then fold these into the creamy mixture.
Pour the whole mixture into the cake tin and then bake for approx 40 minutes until golden brown and starting to come away from the sides.
Leave it in the tin to cool and then turn it out onto a serving platter.
To serve.  Dust the top of the cheesecake with icing sugar and decorate with rose petals or rose heads.
To serve this more like the 'Falooda' drink I love, add some chopped up strawberry jelly and pistachios on top of each slice.  To be even more decadent, add a scoop of ice cream! Yummmm…