Every now and then I have a canape craze – especially when we have people over for dinner. I make mini food. 'Pick-up-and-pop-me-in-your-mouth' food. I suppose it's an extra challenge to my patience but it's so satisfying when the results are good.
These little pies are a great example and are really very quick to make. At the risk of sounding a bit like Nigella here, I made the pastry on the Friday morning of our dinner party, the Blackberry Curd was in the fridge already and so all I really had to do was make the Italian meringue and compile them.  If you don't have time for meringue then just use whipped cream as I have shown at the bottom.  You could follow this recipe for cranberries and clementines too.
You'll need 
For the pastry
200g plain flour, sifted
100g cold unsalted butter, diced
½ tsp salt
2 tbsp icing sugar
1 large free-range egg
1 tbsp iced water
½ tsp lemon juice
For the filling and topping
50g egg whites

110g caster sugar

2 tbsp water
Equipment
A food processor

A KitchenAid with a whisk attachment or an electric whisk

A 24 hole mini muffin tray
To make them
To make the pastry by putting the flour, icing sugar, salt and butter into a food processor until you get breadcrumbs.
Beat the egg in a jug and then mix in the water and lemon juice.
With the processor on, pour in the egg mix slowly until lumps of dough form. You may not use all the liquid.
Turn the dough out onto a floured surface, knead it lightly into a ball shape and then cover it in cling film and pop it in the fridge for at least 30 minutes.
Once it has been chilled, roll it out to a few millimetres thick and then cut 24 circles using a 2.5 inch round biscuit cutter. You may need to roll the pastry up and start again to get the last 6.
Grease the 24 hole mini muffin tray with melted butter and then push the pastry circles into each muffin hole. It is rather fiddly. I gently push towards the middle and then using a blob of pastry push down into the corners.
Once you've done all of them, put the tray in the freezer for 10 minutes to harden.
At this point, put the oven on to 200C.
Prick the pastry lightly with a cocktail stick or little fork and then bake for around 8 minutes or so until you see a golden brown colour. (It might puff up but you can gently press this down after baking. If you really want to, line the pastry with foil and baking beads, bake with those on for about 5 minutes and then bake for a few minutes more after taking them off).
Take them out and leave them in the tray to cool slightly and then transfer them to a wire rack to cool completely.
To make the Italian meringue, whisk the egg white until you get soft peaks.
Put the caster sugar and water in a small saucepan and heat gently til you get a syrupy, bubbly texture – this will be 115C – 118C on a sugar thermometer.
Slowly pour the sugar syrup into the egg whites while whisking all the time and keep whisking until you get stiff, satiny peaks.
To compile the Mini Meringue Pies, spoon some Blackberry Curd into each pastry shell and then pipe a swirl of meringue on top. I use a star nozzle.
Then using a blow torch, gently colour the meringue. If you don't have a blow torch then just put them under the grill. Or indeed you could leave them as they are or sprinkle some glitter lustre dust/coloured icing sugar on top.
I finish with a little edible viola flower because I love using flowers in my baking 🙂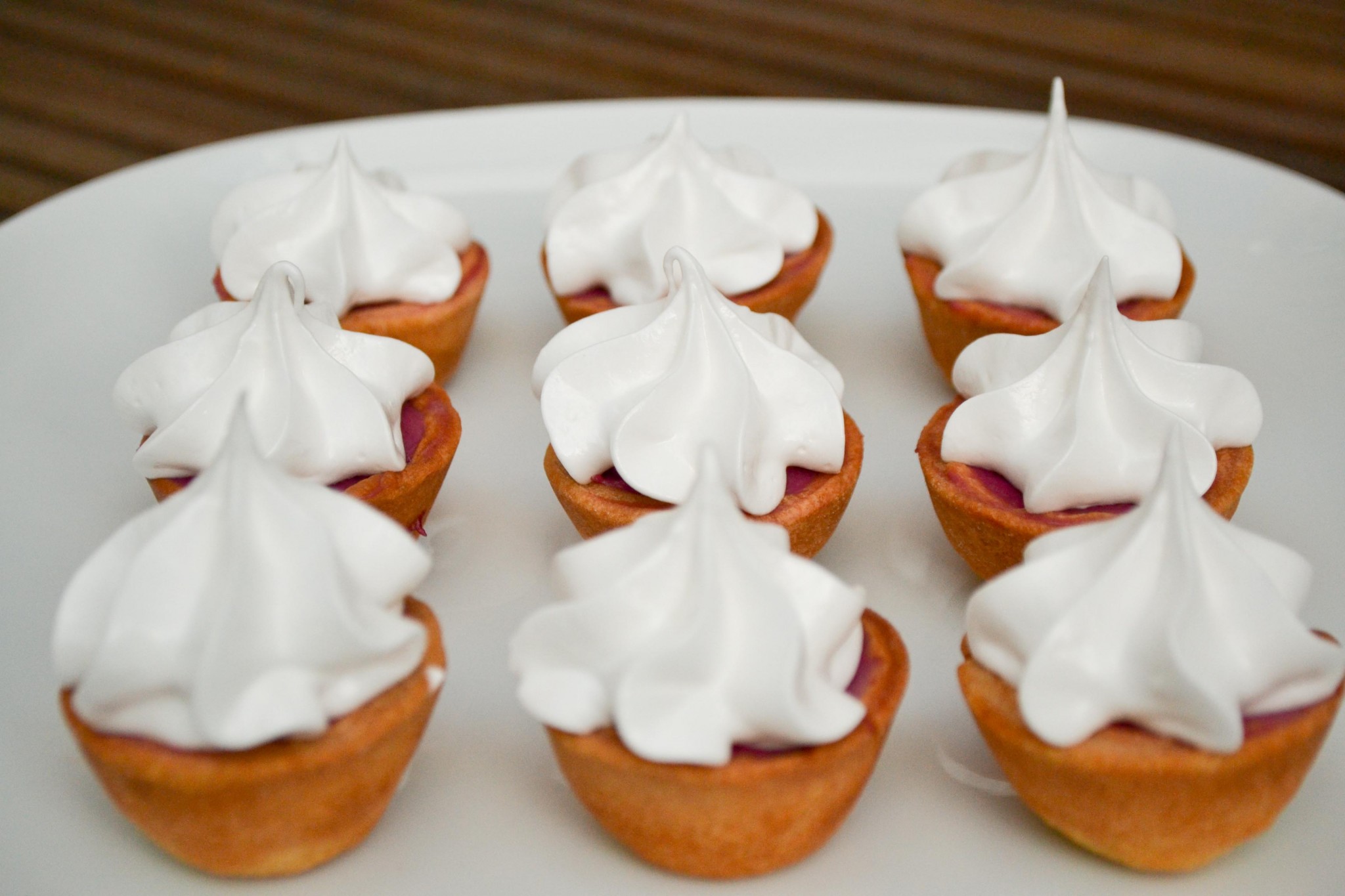 As I said above, if you really don't have time for the meringue, then just use whipped cream like I've done here.