If, like me, you get an inkling for cheese in the evenings with your glass of red wine this is a brilliant recipe for you.  They keep really well in an airtight container for about a week but never last that long in my house!
These also taste amaaaazing with some Thistle Pate that was recently sent to me by Vallebona Deli in Wimbledon.  I know what you're thinking. Thistle? I thought the same thing but the British have used thistle stems in cooking since the Romans introduced the milk thistle plant all those years ago.  It tastes a bit like artichoke so give it a try.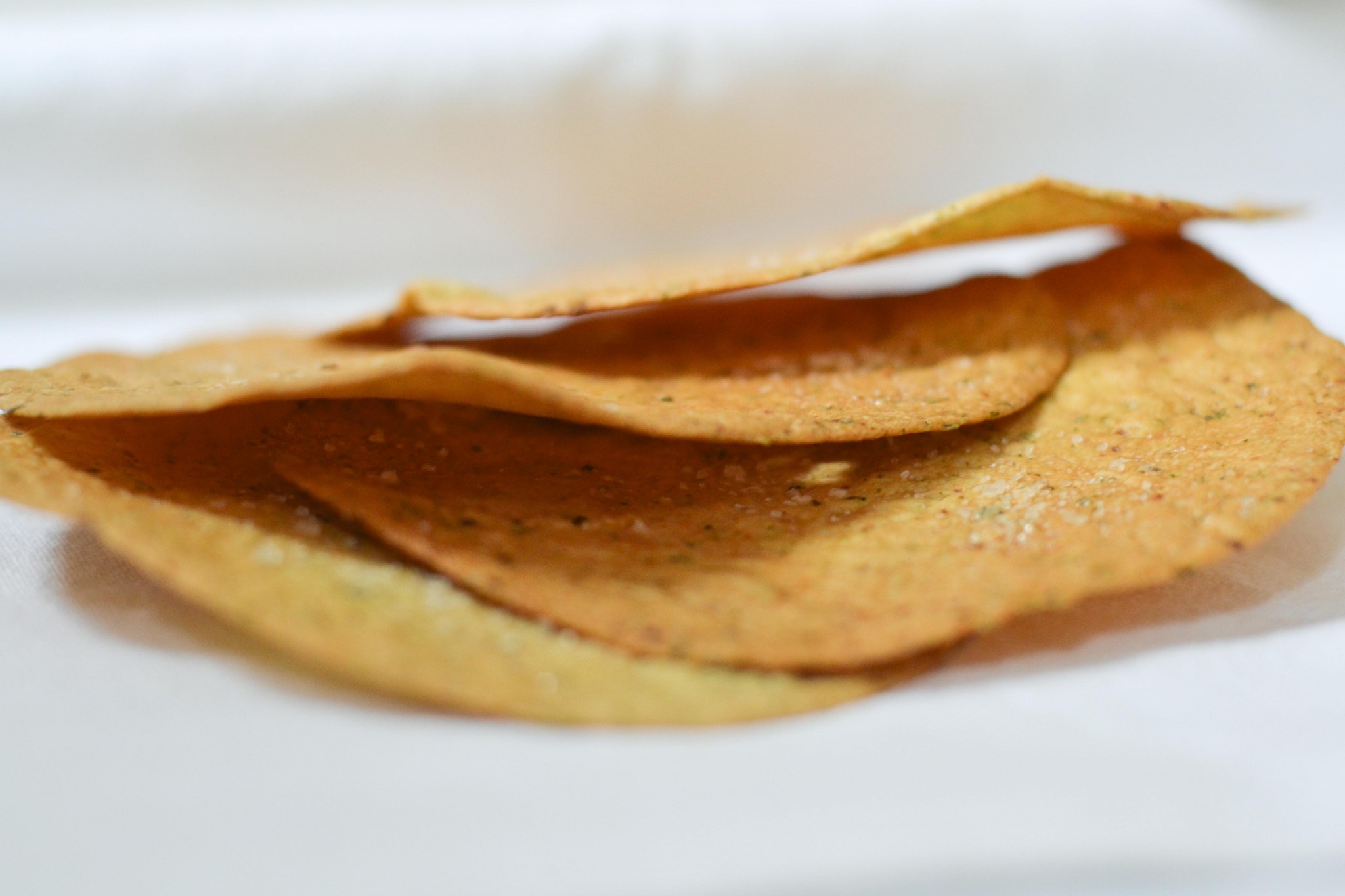 You'll need
125g plain flour
Half an onion
4 tbsp extra virgin olive oil
3 handfuls (45gish) of fresh herbs of your choice – I used a handful each of basil, mint and rosemary sprigs from my garden
Sea salt for sprinkling
A food processor. I use a Magimix
TO MAKE THEM
Preheat the oven to 180C
Lightly grease 4 very flat baking trays with oil and set aside.
Cut two pieces of non stick baking paper – around the size of a kitchen towel will do.
Mix the flour and 2 tbsp of oil in the food processors until you get a breadcrumb consistency and then set aside.
Roughly cut the onion and blitz this in the processor with the herbs until it is all finely chopped.
Add 1 tbsp or water and the remaining 2 tbsp of olive oil and blitz it again til it's all well combined.
Add this to the breadcrumbed oil and flour and mix it all together until you get a dough ball. You may need to add a couple of tsp of water.
Knead this dough for a minute or so til it's all really well combined. You might need to do this on an oiled surface if it sticky.
Divide this into 16 pieces. I find the best way to do this is divide in half, then divide these two pieces in half again, then each piece in half again – you will then have 16 roughly equal pieces.
Now roll each piece into a nice ball shape, place it on top of a sheet of baking paper.
Put the other sheet of baking paper on top and then roll the dough out as thinly as you possibly can in a circular-ish shape.
Peel away one sheet of baking paper, place the other on the greased baking tray dough side down and then peel away from the dough. You should basically be left with a very thin circle of dough on the baking tray.
Do this again with the other dough balls. I got around four per tray.
Lightly brish each one with a little water, sprinkle with sea salt and then bake for around 8-10 minutes. They should be golden brown and crisp to touch when they are ready.
Carefully transfer them to a wire rack to cool completely before you eat them.
These also go really well with a simple kedgeree supper.  Just fry off half an onion with salt and 2 tsp of cumin and coriander powder.  Then add a bowlful of cooked basmati rice, a tin of sweetcorn and a smoked mackerel fillet.  Finish off with some chopped parsley or coriander and a tbsp of Womersley Lemon, Basil, Bay and Juniper Vinegar.