This recipe is from Diana Henry's Roast Figs Sugar Snow.  It reminded me of the amazing pastries I ate in Austria once and indeed it's based on on they use at Cafe Sperl in Vienna.   If you like Danish Pastries then you'll love these for breakfast and they are much, much quicker to make.   They are just as wonderful in your lunchbox for the 3pm sugar dip.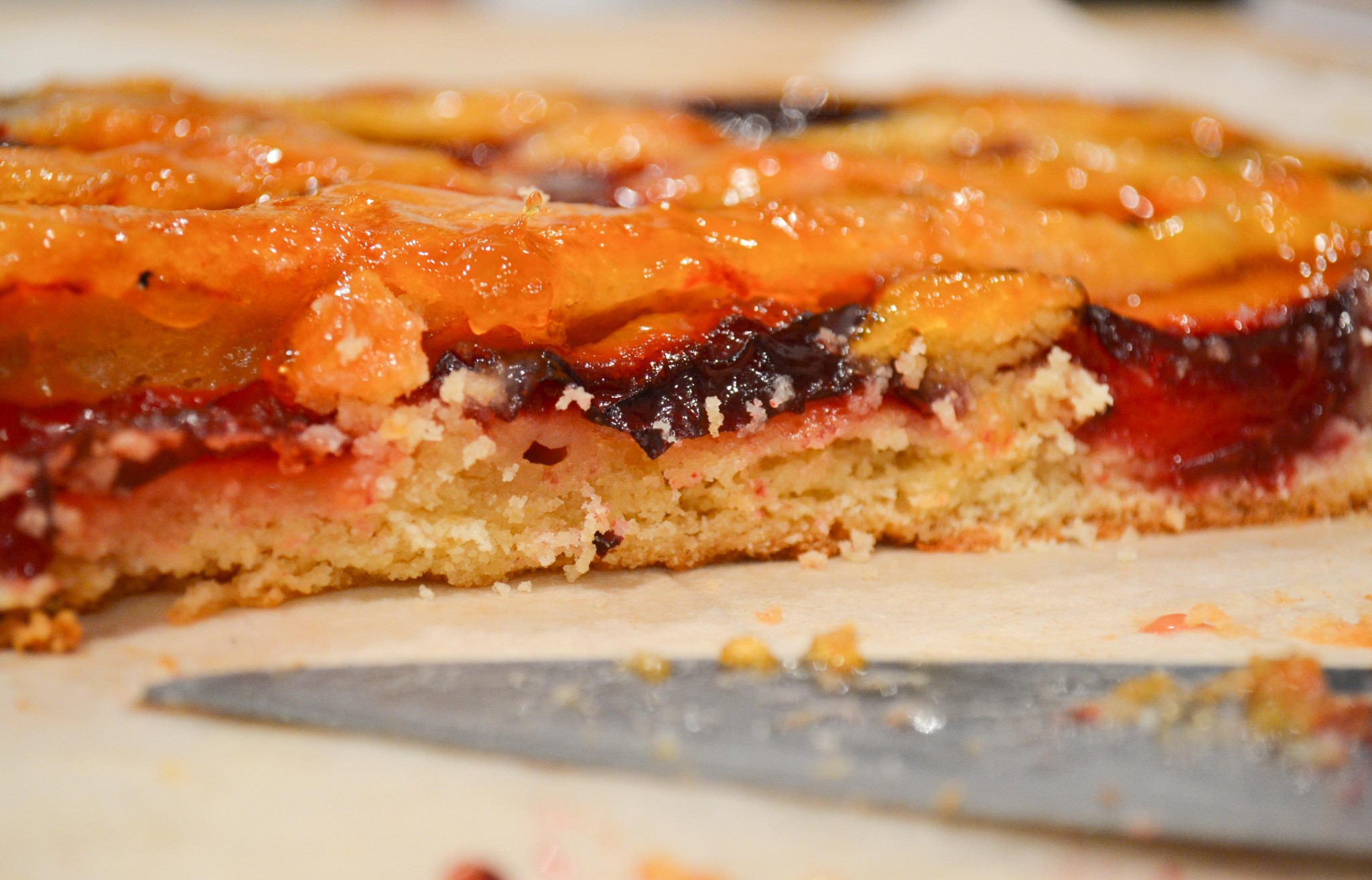 You'll need
200g plain flour
100g cold unsalted butter – cubed
175g caster sugar
Pinch of salt
1 egg yolk
1 tsp vanilla extract
675g plums
2 tbsp granulated sugar
200g apricot jam or redcurrant jelly
Equipment
A food processor. I use a Magimix
A square baking tin – 20cm x 30cm
TO MAKE THEM
Put the flour and butter into the food processor and blitz til you get fine breadcrumbs.
Add the sugar and salt and blitz again.
Add the egg yolk and vanilla and keep the processor on til you get a ball of pastry. You might need to add a tiny bit of cold water.
Wrap the ball of pastry in clingfilm and chill it for 30 minutes in the fridge.
Preheat the oven to 180C while the pastry is resting.
Wash the plums, cut them in half and stone them. If they are big plums, then cut them into quarters.
Take your baking tin, grease it with some butter and line it with baking paper.
Take the pastry out of the fridge and press it onto the middle of the baking tin.
Slowly start to press it outwards using the ball of your hand. Don't attempt to roll it because it's just too soft.
When you have an even layer across the base of the tin, place the plums on top.
Press them into the pastry lightly and then sprinkle over the granulated sugar.
Bake for 45 minutes – you will know. The smell is amaaaazing!
Leave this to cool completely.
Meanwhile melt the apricot jam or redcurrant jelly with a tablespoon of water. I used apricot jam.
Spoon this over the cooled plums, leave to set and then cut into chunky squares.
This was such a hit in our house that I made it three days in a row! I can imagine it's fab with damsons or blackberries. Ooooh or maybe sloe berries with a sloe gin drizzle……