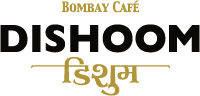 Dishoom describes itself as a Bombay Cafe in London but it sooooo much more than that. There is a very clear narrative behind the restaurant which exudes from Shamil who is one of the founders.
'Dishoom' is the old Bollywood sound effect produced when a hero lands a good punch, or when a bullet flies through the air. My Dad used to tell me off when my sisters and I argued. "Stop doing Dishoom Dishoom!". It also is a slang expression like 'Mojo' – "He's got that Dishoom"
Dishoom in London stirs up and recreates the stories of the Irani Cafes of Bombay. These were veritable institutions in the bustling city but are now as elusive as a rickshaw driver with a meter that works.
Zoroastrians came across the Indian ocean from Iran in the early 20th century to a colonial Bombay. They worked in the homes of established Parsi families to gather enough rupees and stability to set up their own businesses – cafés.  These provided a snack, a meal, or just a cup of chai (spiced Indian tea) to Bombayites of different castes and classes. Quick, delicious and cheap.
Like many immigrants, my father included, an important goal was a better life for the children.  A better life as an accountant, a doctor, a lawyer, a teacher even but certainly not a cafe owner.  This coupled with the rise of modern coffee chains has seen only 20 or so original cafes survive from the hundreds there once were.
The owners of Dishoom are not Irani nor are they from Bombay but they have a passion for bringing this part of India's heritage to London.  And they have done so admirably well.
It's in the decor. …The cafe feels like India. It's bustling with activity. There are Indian memorabilia and paraphernalia everywhere. My favourite is the ladies toilets with the medicinal bottles, pills and powders.  Vico Tumeric Ayurvedic Cream really should be sold more widely nowadays!
It's in the frequent events that take place…….I recently attended a Diwali at Dishoom with my girls. There were wonderful traditional activities such as Rangoli painting on the pavement and animated, interactive storytelling with Vayu Nadu  for the children.   We had traditional ladoos (sweets) with chai.  (Actually to be truthful I had a Diwali Bellini – passionfruit and prosseco is a killer combo!).  There is a New Year's Eve Bash of a Bombay Vintage Glam theme. The imagery alone evokes memories of my childhood watching the glamorous Bollywood legends Hema Malini and Sashi Kapoor. The modern day icons are simply not a patch on them.
It's in the personalities of all the people I've met.  Everyone is a 'Walla' or a 'Walli' which literally translates as 'the one who does/makes…' making me a food blog walli for example.  They are of course in business to do business but there is an inherent sense of fun about this place.
And of course it's in the food…..The menu is well thought through. Spice-ful and spicy to appeal to palates throughout the day.   For example at breakfast, there are purely Western creations such as Granola, Indian specialities such as Brun Maska (an Irani version of my dad's breakfast of chappati to dip into chai) or in the spirit of the culture many of us second or first generation Indians have grown up in – a mish mash of East and West like the Bacon Naan Roll.
At lunch you'll find Coriander and Chilli Lobster Tail with Biriyani made the traditional way in clay pots sealed with naan dough.
You will also find classic Bombay street foods such as Pani Puri (fried bread puffs with potatoes and chutneys), Bhel (puffed rice with potatoes, onions and chutney drizzled on top) and Pau Bhaji (mashed veg with hot buttered bread rolls).
You'll also find unusual Chef's specials and seasonal set menus. If you're on your fourth Christmas meal out like me, (I have a LOT of work events!), you might want to beg the organiser of the next one to take you to Dishoom.  There is turkey but it's got a kick and a few interesting side kicks – fiery-sweet chutney made with cranberries and red chillies and zingy Bombay potatoes and masala winter greens.  There are chilli mince pies too.  But what really makes the menu unique and Dishoom through and through is the selection of chai.  Here is the list.  (It's far more entertaining to say these in an Indian accent by the way. Go on. Imagine you're in Goodness Gracious Me!).
Naughty Chocolate Chai – dark chocolate syrup, chocolate shaving, Bourbon
Egg Nog Chai – Egg nog with dark rum, cinnamon and nutneg
Cognac Chai – Ground Christmas spices with Hennessy VS
Baileys Chai – simply chai and Baileys
Dishoom have kindly shared the recipe for my favourite – Bailey's Chai.  I hope you'll have a go.  Maybe create your own Irani Cafe vibe while you're drinking it by downloading some Bollywood tunes or making some simple tea coasters with Bollywood movie stars on them.
Baileys Chai – makes around 4 tall glasses
You'll need
350ml water
240ml milk
30g loose leaf tea – ideally 40% Darjeeling (fruity, spicy, light) and 60% Assam (more robust and giving the tea its dark colour)
5g fresh ginger
4 green cardamom pods
3 cloves
1 stick cinnamon (half inch piece)
5 black peppercorns
200ml Baileys
200ml double cream
To make it
Put all the ingredients except the milk, Baileys and cream into a heavy bottomed pan and brew for 10 minutes on a low to medium heat.
Add the milk and let it boil for 10 more minutes
Strain and pour 125ml into a cocktail shaker.
Add 50ml of Baileys and 50ml of cream into the shaker and mix it up with a Bollywood Boogie – the latter is my quirky addition to this recipe 🙂
Pour the liquid into a tall glass and spoon the creamy froth on top.
Repeat steps 4 and 5 three more times with the rest of the chai mixture.