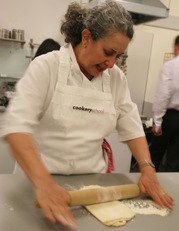 I met Rosalind Rathouse late last year.  She kindly invited me to lunch at her Cookery School just off Oxford Circus.  I liked her right away.  She was infectiously enthusiastic about quality food and teaching people to cook great meals.  Two areas I am passionate about myself.
Rosalind started teaching in her native South Africa where she used her own kitchen to teach students the basics of cooking.  It was all hands on because many of these pupils couldn't read or write.  She came to the UK in the Sixties and talks with fond memories of teaching in a secondary school off the Edgware Road.  It was hard work and the school was in a rough area but it seems she found a way to connect with the children and enjoyed it.  She told me about getting into a black cab recently – the driver of which was a former pupil who raved about the great time he'd had in her classes.  I remember being rather envious of the the imprint she'd left on this young man's life. I aspire to this.
In 1982, Rosalind started Piemaker, a business that made and supplied wholesale pies and cakes to Harrods and Waitrose among others. She told me about the challenges she had maintaining her principles of treating staff well and sourcing fresh, organic ingredients vs. trying to get a business off the ground.  After troubles with her business partner she decided to go back to teaching full time – a passion she had not exhausted.  She had a flourishing study skills practice in 1992 and this, coupled with her energy for good food led to opening The Cookery School at Little Portland Street in 2002.

The principles of the school are straightforward = classic and simple cooking.  They try to source the finest, seasonal ingredients – organic when possible.  On top of this, sustainability is important to Rosalind.  She encourages her team to recycle as much as possible and avoid unsustainable plastics.  She showed me how food is stored in bowls covered with plates rather than plastic containers. A simple thing that I hadn't really thought about until she pointed it out – what's wrong with leftovers in a bowl vs a plastic box or cling film?
The suppliers she uses are established names in organic food but there are some new small companies too.  Rosalind wants to support the industry as much as she can.  She is an advocate of  Sustainable Fish City and the Sustainable Restaurant Association.
The classes and courses timetable has something for everyone. They look fun and I love the communal eating at the end.

On top of the cookery school, Rosalind launched Rosalind's Kitchen – a tiny take out cafe close to Oxford Circus.  She faces a lot of competition on this patch from the big brands like Pret-a-manger and Starbucks.  But the food is incomparable.
The menu changes daily.  The food is freshly made and addresses all the food groups.  The choice is vast for such a small place!
Her staff are friendly and share her passion for the quality and taste. They talk confidently about how the dishes are made and the ingredients within.
I got the feeling though that all this wasn't enough for her.  An indeed it isn't as she has recently finished a Cookery School Cookbook which will be out later this year.  I can't wait!
I thoroughly enjoyed meeting Rosalind and her team.  If I can accomplish just half of what she has managed to in my lifetime – whilst sticking to my morals and organic beliefs – I'll be incredibly proud.