I've been wanting to go here for ages after having read so many reviews by other bloggers.  I wanted to go with my husband though rather than a quick bite on my own at lunchtime.  So after a spot of shopping on Oxford Street we headed over to Dean Street at around 7ish.  It was a weeknight but unlike many of the other restaurants on the same road, it was already packed.  Being a pair, we got a table very quickly downstairs.
The place is like a tardis/rabbit warren!  There is a narrow bar on the ground floor and C shaped bar downstairs where we were led.  It was rather hard not to disturb and jostle other diners.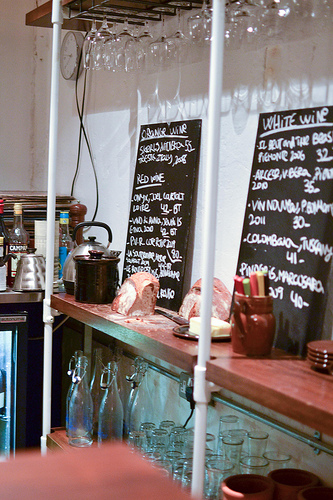 We really liked the look of the wine list and the waitress explained they were all natural – no additives, no sulphur, no chemicals. I loved the idea of that and was tempted to go with the Orange Wine but couldn't resist the cocktails.  I had a Jasmine Tea Gin Fizz which was heavenly!
The menu was varied and creative. I didn't get a picture of the dinner one but this is the lunch menu on the same day from their website with some of the same dishes we ordered.
The menu is quirky too in that it's hand written.  The waitress was writing it as we sat down which was good because we couldn't read her handwriting.  You really don't have to order in any order as the food comes as it's ready.
I rather liked the way they keep track of orders.
We ordered Baked Crab with Fenugreek.  It was delicious but at £6 I thought the portion was rather small, (the bread in the picture is a separate order).
Next some delicious Beetroot with Dill, Cumin and Pistachio which was utterly amaaaazing.  I can't believe how well the cumin worked with beetroot. This was noted as a 'must try to make at home'.
Then on to some Chiperones with Fennel and Chilli.  These were whole fried baby squid.  They were delicious but again the portion was rather small.
I love eating fish when we go out because I'm not great at cooking it myself and so was intrigued by the Monkfish, Red Peppers served with Monksbeard which is a type of chicory from Tuscany.  Cappuccino monks began growing it and so it was named after them in appreciation of their efforts.  It's only in season for about five weeks so it was quite nice to see it on the menu.  It was delicious.  perfectly cooked and a nice starter sized portion with plenty of nutty olive oil we mopped up with Sourdough Bread.
We'd already spent about £40 by this point so decided to move on somewhere else a bit more in our price range to fill up as neither of us had eaten all day.
This was a delicious pit stop.  I just wish there had been more mouthfuls of it on the plate!
Duck Soup Soho, 41 Dean street, London, W1D 4PY