Last week I was invited to lunch at the new Bukhara London Pop Up at the Sheraton Park Tower in London's very posh area of Knightsbridge.  I arrived to a beautiful flower display in the lobby…
…and an elephant just outside the entrance as some of the proceeds of the pop up will be donated to The Elephant Family – a charity which campaigns to protect Asian elephants and their habitat.  I really like this about the pop up as I was fortunate to run the London Parks Half Marathon for these guys and met the lovely patron Mark Shand who is a hero of mine.
The idea behind the pop up to create an epicurean experience similar to the original Bukhara which is at the ITC Maurya in New Delhi.  It's a wonderful Luxury Collection hotel and if you ever get the chance to visit, I would encourage you to go.  A wonderfully relaxed and decadent place in the hub bub of Delhi.
The London experience was created by Waris Ahluwalia who wanted to "celebrate the beauty of nature in India, a country of vast and varied landscapes that has the ability to transport people to the magical garden that my heart sees."
I think he achieved this outside on the roof garden where, under a linen canopied tent, there was a beautiful garden with a real jasmine tree that smelled amazing in the sunshine.
A lovely bar with champagne to set the meal off to the right start.
Inside, it was very nice – beautiful carvings of elephants and low lighting with candlelit tables but I didn't feel I was in a tent.  I would have preferred to be seated on the floor on magnificent Rajasthani cushions just like those Mughal Princesses!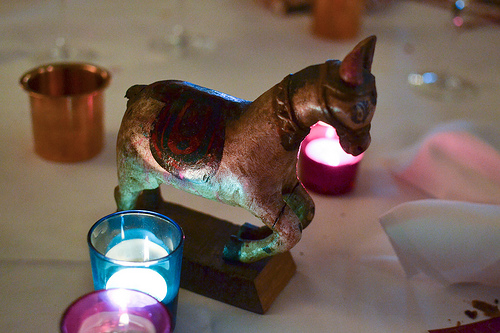 The food is all cooked in a tandoor – a very hot clay oven.  I love that idea and was looking forward to the vegetarian dishes in particular.
First off, Paneer Tikka – Kebabs of freshly made paneer which had been marinated in a batter of cream, chick pea flour, ajowan seed and yellow chillies.  They were delicious.  I'm not usually a fan of paneer as it's often hard but these melted in the mouth.
And then on to my favourite dish of the meal, Tandoori Simla Mirch.  A green pepper stuffed with french beans, carrots, cabbage and cauliflower, nuts and sultanas, spiced with cumin and yellow chilli powder and roasted on a special skewer in the tandoor.  I know it won't be quite the same but I'll be making these on my BBQ this summer.
I am a big fan of dhal.  You can read all about my version on my Gujerati Girl site but the dhal at Bukhara is going to go down as an all time favourite.  Dhal Bukhara is made from black lentils, tomatoes, ginger, garlic and cashews simmered over night on a slow charcoal fire.  It's then finished with cream and served with dollop of unsalted butter – I think he actually meant ghee because that's how it tasted.  I didn't get a picture of it as I was simply mesmerised and gobbled it up far too quickly!
Next up, Tandoori Aloo – scooped potatoes stuffed with mashed potato, raisins and cashew nuts mixed with green chillies, green coriander, skewered and roasted in the tandoor.  I first had these as a snack with my first ever Bombay Sapphire and tonic at the Lake Palace Hotel in Udaipur so each mouthful transported me back.
As I eat fish, I tried these wonderfully succulent prawns from the tandoor platter.  They were so lovely with the coriander and green chilli chutney.
The whole meal is served with Raita – fresh yoghurt with pineapple onion, tomato or cucumber.  It's to cool the mouth but I really didn't need it. You also get a large selection of Tandoori Naan, Parathas and Tandoori Roti.  All very different but I would go for the buttery paratha because I'm a ghee fanatic.
There is also a nice Tandoori Salad – Onions, capsicum, tomatoes, paneer, and pineapple seasoned with 'chaat masala', black cumin and lemon juice. These are all skewered, sprinkled with oil and grilled in the tandoor.  I thought this was rather nice for vegetarians as it's a change to the typical green salads we often put up with.  'Chaat' means 'lick' and you'll definately be licking your fingers as there are no knives, forks or spoons with this dining experience.  It's all very authentically eaten with your fingers and so these very fetching aprons are provided.
Finally on to dessert and the biggest Gulab Jamun I have ever seen! Gujeratis have these as mini spheres about the size of a ping pong ball so this giant version nearly made me burst – nearly! Gulab Jamun are fried dumplings of cardamom infused milk curds which are then immersed in sugar syrup.  One of my favourite Indian dishes and this version was delightful.
These were served with Phirni which is ground basmati rice flavoured with cardamom and topped with pistachios and almonds.  I think there was also a hint of saffron in there.  I'd actually never had this before and it was like a very light rice pudding.
It was lovely to meet the man behind the menu, ITC Hotels' Corporate Chef Manjit Gill.  He explained that this menu aimed to bring to London the tastes of the North West frontier and the techniques of the tandoor.  His menu was inspired by the 'cameraderie of the campfire'.
Bukhara London is open until Friday 1st June and there have been some additional seats released.
Bukhara London is at The Sheraton Park Tower, 101 Knightsbridge
London, SW1X 7RN.
Call 020 8045 0714 to book or try online at www.bukharalondon.com.
You can follow them on Twitter @BukharaLondon
Related articles