I've been fascinated with mushrooms since I was little.  I remember one day when I was about six years old, I was out walking in the park with my father and I came across some teeny,tiny ones on the grass.  When I asked what they were, my father said they were a kind of 'meat' because they ate and grew on other things.  So that ruled them out of my little world there and then.  I was born and raised as a strict vegetarian.
I later learned at school that they were not animals and therefore meat.  I didn't tell my Dad just in case my teacher was wrong.  She was a teacher though so how could she be wrong? Such a dilemma it was!  I concluded that I would give them a try and to be honest I didn't see what all the fuss was about.  They were OK on school pizza I suppose but on their own I remember they just tasted a bit strange.  Nothing special.  But at least now I could eat the school pizza!
Are mushrooms a meat or vegetable? 
Having done a little research I guess they really could be described as 'meat'.  Firstly, some studies have linked their properties more so to the 'animali' kingdom than the 'plantae' kingdom as they contain a substance called 'chitin which is found in the exoskeltons of crustaceans and some insects.   Secondly, it is the fleshy, fruiting body of a 'fungus' which needs no sunlight to grow and therefore is not a plant.   Confusing eh?
So many varieties to choose from 
Before I lived in Japan I'd only really eaten the large flat mushrooms you get in British supermarkets.  I'd stuff them with a handful of cheesy breadcrumbs and pop them in the oven at 180C for about 15 minutes to have as a light supper with salad and crusty bread.  Very eighties. Very cool.
In Japan, I learned about Shiitake, Shimeji and Enoki mushrooms.  The latter two both grow in clusters and are lovely in a Miso Noodle Soup.  I simply use fresh miso paste and stir about 2-3 tablespoons into a pint of hot water and then gently bring to the boil with a few spring onions, any of the above mushrooms and some thick udon noodles.  This recipe from Steamy Kitchen is a good starting point to develop your own mix.
And who can forget the wonderful European varieties of  Chanterelle or Girolle mushrooms from France and the infamous Porcini from Italy. Earthy and rich is soups but I love them in ravioli and then simply tossed in garlic butter.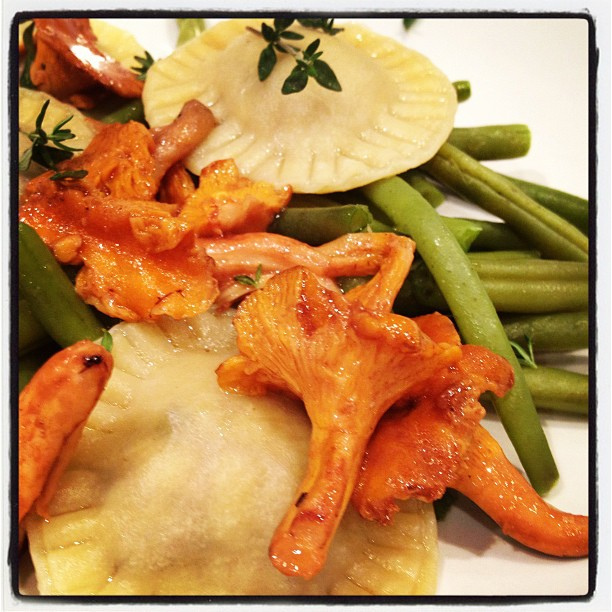 Nutritionally awesome
Mushrooms are a low fat, low salt and a high vitamin food.  Interestingly they are high in protein – most mushrooms have about 20-30%.  They are also high in fibre despite being about 70% water.  This is why you'll feel very full after eating them but then are hungry again soon afterwards.  Just double the quantity if it's the main part of your meal.
Available on our doosteps
Now the rainy weather we've been having in England over the summer may have been awful for some crops but not mushrooms it seems! We have loads in our local woodland and the countryside seems full of them.  If you know what you're doing you need never buy mushrooms again.  I learned so much from Chef Toby Gritten of Pumphouse Restaurant in Bristol when he took us out foraging but I really don't have the confidence to go mushroom hunting on my own just quite yet.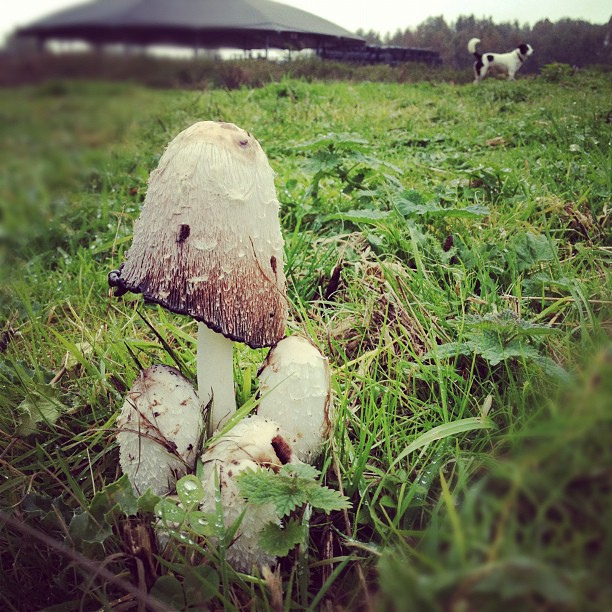 All mushrooms have the potential to cause a toxic reaction.  If you've never eaten mushrooms before, the general advice I've read seems to be to eat them in small quantities but check with your own doctor if you're worried.
And for those of you who like raw mushrooms in salads for example, think again.  Mushrooms have tough cell walls which lock their health benefits away in the indigestible 'chitin' I mentioned above. Cooking them makes these molecules more available and neutralises the  smaller levels of toxins so basically don't eat them raw.
Having written this post, I now understand why mushrooms are often given in meat dishes as the substitute for the meat.  What a rich food they are and despite being so closely linked to being an animal, it hasn't put me off eating them!
Are you a mushroom fan? How do you like them? What's your favourite variety?