Since my trip to Kentwell Manor a few weeks ago, when the lovely lady in The Still Room treated my eyes for hayfever and  itchiness, I have been reading about elderflowers and their healing properties.  She used mint leaves which had been dipped in water steeped with elderflowers and it really was one of the most soothing eye treatments I've had.
The elderflower's astringent properties help dry up a runny nose and watery eyes
I have discovered that elderflowers contain 'tannins' which are astringent and it's these that helps the eyes to dry up and reduce the inflammation.  Elderflowers were also used to treat breathing problems, blocked noses, swollen sinuses colds and flu.  The flower heads would be left in hot water to infuse for about 15 minutes and then you'd sip this infusion for some relief. I must admit it didn't work for  my runny nose but tasted rather comforting.
Sweet, honey like taste preserving the start of summer
I have really enjoyed making Elderflower Cordial this year.  I suffered and sneezed while picking the heady blooms but it was very satisfying having a glass of cool, iced cordial in the garden the next day.  There are so many recipes.  I used the one in Diana Henry's Salt, Sugar, Smoke book.
I also made Elderflower Fritters after tasting them at Kentwell.  I was inspired by the fact they were frying in butter vs oil and I must tell you what an amazing richness this adds to both taste and texture.  They just melt in your mouth. I wanted to stay true to the Tudor recipe for the batter too so I just whisked up some flour and water until I had the consistency of thick double cream.  We ate them with a drizzle of the cordial on top and some vanilla ice cream.
Preserving the smell and flavour for the rest of the summer
I know the delights of elderberries are yet to come and experiment with but I wanted to bottle that sweet, almost sickly, fragrance a little longer.  I decided on Lemon and Elderflower Marmalade.  It's a very low effort recipe so even if you are a novice preserve make like me, you can do it with the aid of a good thermometer.  It really has been irresistible this week for breakfast.  I've had it on toast, on top of bircher muesli and with pancakes. I'd eat it right out of the jar if I didn't have to get the girls ready for school and dash to work!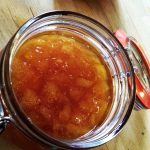 Print Recipe
Lemon and Elderflower Marmalade
Notes
You'll need
500g (about 3) large lemons
30 elderflower heads with flowers in full bloom
Granulated sugar – quantity will depend on the weight of cooked lemons but measure out around 500g to start
100ml elderflower cordial
Sterilised* jar/jars to hold about 1 pint
To make it
Put the lemons in a pan and cover them with water so they are just immersed but not too much.
Add 10 elderflower heads and boil for around 2 hours until the skins are really soft.
Leave to cool and then carefully wipe the elderflower residue off the lemons.
Strain the liquid into a jug through a sieve and set aside.
Chop the lemons – skin and middle – and make sure all the pips are ousted.
Weigh the chopped lemons and then measure out double the amount of sugar.
Place the chopped lemons and sugar into a pan and then cover with 100ml of elderflower cordial and 400ml of the boiling liquid. If you don't have enough, top up with water.
Pop the rest of the elderflower heads into a muslin bag. Wrap tightly and then place this in the pan too
Bring to a rolling boil and then until setting point is reached. I used a thermometer and waited til it got to 105C.
Skim any froth off the top and then pour into your sterilised jars.
*To sterilise jars, I don't faff around with boiling or oven baking. I dishwash them on hot cycle and then pour over some boiling water.
There are still a few blooms left in my little part of North London so I may have a go at some Elderflower Gin this weekend.  Perhaps not as virtuous as the soothing water and hot cough remedy but healing nonetheless after a long week in the City.
Related articles
Have you been collecting elderflowers? What have you used them for?