One of the reasons I started growing strawberries was because over the last few years, strawberries no longer taste like strawberries. They look like strawberries. They smell like strawberries but they don't taste of anything. Bland watery popsicles. Often not even juicy and indeed sometimes crunchy. Worst of all, they're not grown in the UK making me feel all the more guilty for being sucked in by the rich red colour they all have.
All about Sweet Eve
I don't know what variety I'm growing at the allotment but they are sweet, juicy and plump. Rather like Sweet Eve Strawberries. This is a new kind of strawberry which is British born and bred and has hit our shelves after a 25 year development process during which they outperformed other varieties in various taste tests. And I would agree with those testers. These strawberries arrived in a lovely recycled crate painted with a Union Jack. How very British. They were fat and flavourful.
These strawberries are grown by various growers in the UK and were developed specifically for our British climate and thrive during June to October. My strawberry plants have already stopped fruiting so I love the idea of getting strawberries right til October. Splodgy, bloody, sticky Halloween mess springs to mind.
Strawberry and Black Pepper Jam
Sweet Eve has lots of recipe inspiration on their website. Unless strawberries are over ripe, I tend to use them raw – chopping them onto a Custard Tart or folding them into a Swiss Roll but I needed to preserve this batch as I was away for a few days with work. I was inspired by the jam on the website as it was a simple three step process – in the oven! I fiddled with the recipe of course to get a chunkier version but I liked the process. Much simpler than using preserving pans and worrying about pectin sugar addition and setting points! I also drew inspiration from The East India Company and added freshly ground black pepper. It works and was perfect dolloped into porridge and spread over multi grain toast with cream cheese.
I'm keen to support this British producer and so next time I shop I will be looking out for the brand. I do hope the supermarkets are giving them a fair deal for all their hard work. It would be great to see them do well after 25 years in the making. You can buy Sweet Eve Strawberries in Booths, Co-Op, M&S Foodhalls, Ocado, Tesco and Waitrose. Look out for their distinctive logo.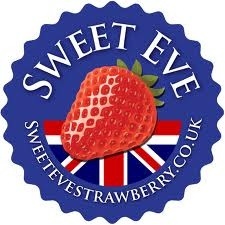 Thank you to Great British Chefs and Sweet Eve Strawberries for sending me my sample box.