Yum Yum Thai in Stoke Newington has been around for a long, long time.  The restaurant is now very well established in this trendy corner of North London in an old Georgian building.
I was invited to taste dishes from the summer menu by owner, Atique Choudhury.  On arrival we were greeted with a light cocktail of Yum Yum Rum Punch – A blend of 5 rums, tropical juices, bitters, fresh lime and ginger beer.  This went very well with the freshly prepared spring rolls.  I admired the fruit and vegetable sculptures as I chatted to the other diners – among them a beautiful, elderly lady with wisps of silver hair who has been coming to the restaurant since Atique first established some 27 years ago.  I was rather in awe of this. It's hard enough to run a business but to keep a restaurant going for that long and stay popular with the locals is admirable.
The restaurant is split into a couple of sections. The bar is quite secluded from the main eating area so it would be quite possible to just meet for a few cocktails and bar snacks.  Outside, there is a vast seating area which is mainly within large beach style huts named after different islands.  We started with a mixed platter of grilled king prawns with peanut sauce and fish cakes with sweet chilli sauce.  It was all fresh, delicious and well spiced.  I do like Thai food but I get rather annoyed when restaurants use so much chilli that you cannot taste the layers of flavour nor the fresh, raw ingredients.  There was no hint of that insult here at Yum Yum. This may be due to the fact that all Atique's chefs and his wife are all Thai.
The next platter was a tofu and green apple salad. Not my cup of tea to be honest. I loved the apple and the crunch of all the raw vegetables but it was the tofu that perplexed me.  I would have preferred it to be soft and not crisp and wafer like.
The main courses were unusual.  I was glad there was not a green curry in sight. Instead, there was stir-fried morning glory with black bean sauce, garlic and chilli, Pad Ma-Khea – sautéed aubergines with chilli, onions, peppers & Thai herbs and King Prawn Choo Chee – King prawns with chilli and coconut cream.  Atique explained that all the dishes do vary from time to time as his chefs all come from different parts of Thailand.  I found this charming. It was good to know there was some healthy and competitive debate between the chefs in the kitchen!
And finally we moved on the desserts. Some traditionally Thai and others Thai inspired.  I couldn't choose my favourite from them all.  The chocolate fondants were so perfectly baked oozing warm, velvet sauce.
The Passion Fruit Mousse was light and almost citrusy.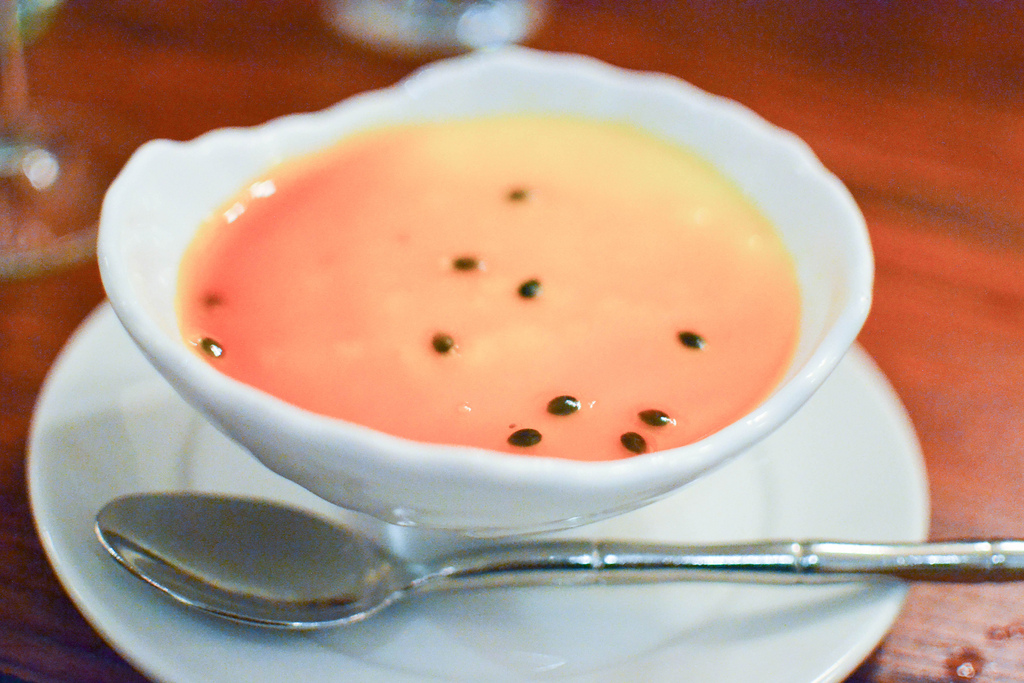 The Green Tiramisu was unusual.  I'm not a huge Tiramisu fan but am undecided on this version.  I think after a meal it was a little heavy so I will come back and try it again for a spot of afternoon tea and perhaps a cup of matcha.
Our dinner was accompanied by a range of wines. As I was driving I only tasted the dessert wines which I would gladly buy for sipping at home.  Both were fruity and cut through the decadent chocolate well.
What I loved about this restaurant is the way it blends old and new Thai – As you enter the restaurant from the road, you see a little shrine which is adorned with flowers – just as you would in the countryside villages of Thailand; the ingredients are all bought in Thailand from small producers to get quality flavours and give back to the Thai economy, the decor is dark woods and mood lighting resembling the five star beach resorts.  It all has the feeling of quality and perfection – including the food.
I would be a Thai food addict if I lived in Stoke Newington. This really is a little gem of a restaurant that I'll look forward visiting again.
Yum Yum Thai is at 187 Stoke Newington High Street, London N16 0LH.  Call 020 7254 6751 to book or book online at www.yumyum.co.uk.