Cherry season is a long way away but I could not resist buying a small pack at the market last weekend.  Goodness knows where they came from but after my run in the wind and rain I thought I deserved a little pick me up.
Cherries were also the theme of a recent event I attended organised by a French food promotions company.  I brushed the invitation to one side initially because glacé cherries are not something I use often.  They simply look too artificial.  It's one thing eating fresh fruit out of season but eating stuff with lots of additives that looks very bad for you is another!
Glacé cherries are not as artificial as I thought
But I was proven very wrong.  The vast majority of glacé cherries we find in UK supermarkets are French.  They are the Bigarreau Napoleon variety and grown in the region of Provence.  There are simply  few steps involved in producing them:
They are pitted, de-stemmed and graded and then plunged into boiling water to increase the permeability of the the flesh and skin.
The cherries are then refreshed in cold water and left to steep in sugar syrups in order to gradually replace the water content slowly.
This whole process takes about 10 days and by the time the candying process is complete, the sugar syrup will have steeped right through to the centre of the cherries.  The confectioners call this  "nourishment to the heart." Hmm I'm not so sure how nourishing these are with all that sugar but I was glad to know it's all 'natural' sugars.
A fascinating history too
Cherries have been grown commercially in France since the Middle Ages – for fruit but also for the beauty and colour of the tree wood.  The idea of candying them arose from a need to preserve rather than to satisfy sweet cravings at the time.  The recipe for candying was perfected in 1600 by an agricultural specialist called Olivier de Serres and travelled to the UK in the mid 1800s after a businessman called Mathieu Wood discovered them on holiday and took them back for sale in his shops.
It was around this time that picnics were gaining popularity and the food which was easy to carry outdoors was a growing trend.  Fruit cakes therefore because quite in demand and as the glace cherry retains it's shape and flavour in the baking process and looks rather pretty in decoration, sales and popularity grew and grew.
A perfect sweetness for baking
What clicked after learning all this is that I've never had a jar of cherries of the same colour.  In fact the colour varies according to the cherry crop and time they are picked.  I'm not a fan of fruitcakes but I gave these a go in some quick puff pastry hearts.  Perhaps my mind was thinking about the process and how the syrup is absorbed to the core or perhaps it was because it's Valentine's Day tomorrow.  Whatever the reason they are perfect for baking with as they do retain their shape but also give the sweetness you need so you don't need to add any syrups or additional sugar.  I was rather pleasantly surprised.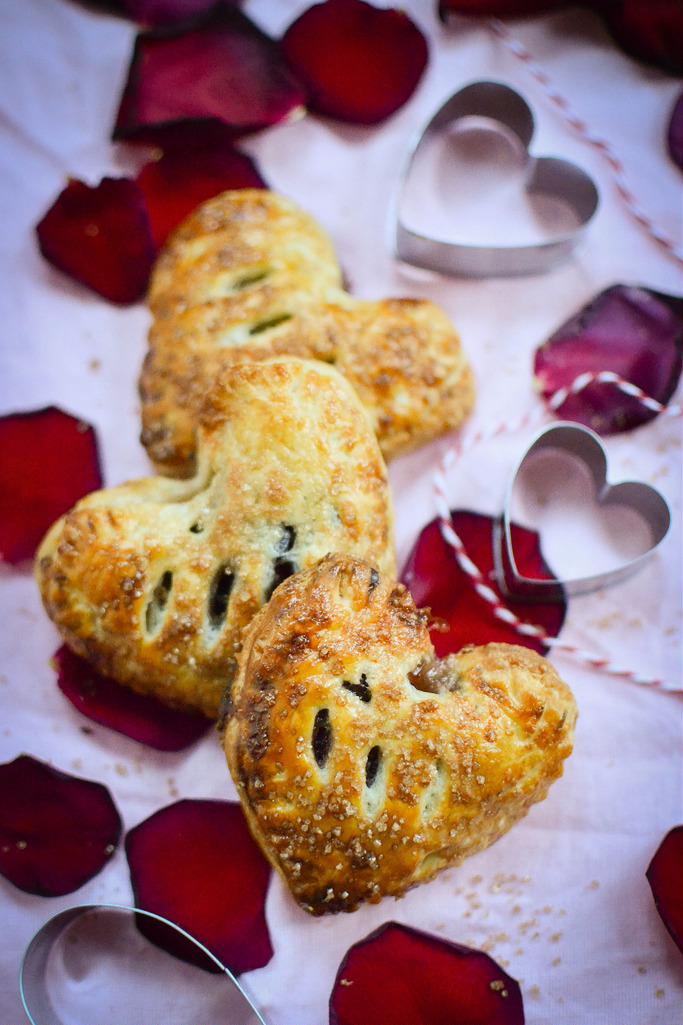 You'll need
1 x 425g tin of cherries
200g French Glacé Cherries
2 x 500g packets of all butter ready to roll puff pastry
50g unsalted butter
heart shaped cutters
1 beaten egg
3-4 tbsp demerera sugar for sprinkling
To make them
Preheat the oven to 180C.
Melt the butter and set aside.
To make the filling, drain the tinned cherries and chop into small pieces.  You could reserve the juice and add a couple of tablespoons of sugar and heat til sticky to use as a syrup for ice cream.
Chop the glacé cherries into small pieces and combine with the tinned cherries.
Roll out the puff pastry to around 5mm thick and then cut out heart shapes*.
Take one of the hearts and paste a little butter around the edge.
Place some cherry filling in the centre and then place another pastry heart on top.
Seal the edges by pressing down gently with your fingers and then the tines of a fork.  Tip – Dip the fork in some flour first to prevent sticking.
Repeat till all the hearts and filling are used up.
Place the hearts on a baking tray and brush each one with some beaten egg.
Gently place a few slices on the top to allow the steam to flow out and then sprinkle over some demerera sugar.
Bake for about 15 minutes until golden brown on top.
* Roll the remaining pastry out into a square, sprinkle with cheese and then cut into batons to make breadsticks
Do you use glacé cherries? What's your view on eating candied or preserved fruit or eating fruit out of season?