Last week I received an intriguing parcel from Lurpak.  It contained some flour, a bar of dark chocolate, a pack of Lurpak for baking and two leaflets enticing me to go create!
The pack is part of a new campaign they have launched called #FoodAdventures which sees some new products designed to speed things up in the kitchen and help you create dishes you may not ordinarily create.
The product I received has been created to be used for baking straight from the fridge.  So…no more popping chunks of cold butter into hot water to soften (Mary Berry trick) or blitzing it in the microwave before it turns to a melting pool of yellow goo.
A blend of butter and vegetable oil
There are many 'spreads' designed for baking and indeed until my 30s I used these as standard. This is what we used at school in home economics.  Then I learned what goes into these spreads and vowed never to use them again.  The Lurpak Cook's Range is unsalted and is a blend of butter and rape seed oil. Nothing else.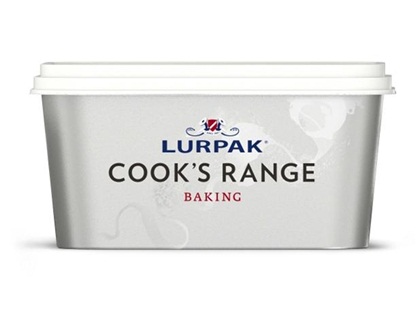 Using it for pastry
I wanted to give this a go in a recipe that needed cold butter and could think of nothing better than pastry.  I found it very easy to work into the dough but needed much less egg to bind the pastry together.  The dough was very soft and quite difficult to work with so I popped it in the freezer for 30 minutes vs the fridge which I usually do.  The pastry was not as short through and so there could be dangers of soggy bottoms for larger tarts if you don't blind bake.
Using it in sponge type mixtures
I then opted to make frangipane. This needs softened butter and so the Lurpak Cook's Range was great straight out of the fridge.  I spooned it right out of the tub into the KitchenAid.  The mixture was lighter and fluffier than usual and also took less time to get to that stage.
My verdict
I will stick to Lurpak's normal unsalted butter for my pastry as I like it crisp and short.  My pastry won me favour with Mary Berry during pastry week on GBBO and so let's not change something if it's working.  But I will be keeping a tub of the Cook's Range in the fridge for the days I fancy a quick sponge and have forgotten to leave the butter out to soften.  It's perfect for these occasions and produces good results that taste rich and decadent just like 100% butter.
A Plum and Ginger Tart
Here is my tart and here is the recipe.
I had some pastry leftover and so I decided to make some mini versions too.
The rest of the range
As I am a bit of a trekkie I rather like their video.  It shows you the rest of the range which includes Clarified Butter, Cooking Liquid and Cooking Mist – all butter based.  Thanks to Lurpak for inviting me to review the new range and commissioning the Plum and Ginger Tart recipe.
[youtube https://www.youtube.com/watch?v=vmOr9I2JxZs]
What's your view? Would you give these products a go or are you a hard nut 100% butter only fan?