Last year my raspberry bush at the allotment gave us what seemed like a never ending supply of luscious ruby raspberries.  This year we've had equally a bumper crop.
It has been so easy eating them simply off the bush while picking.  Especially in the hot and humid weather we've been having in England recently.  But truth be told we have had to freeze the bulk of the the bumper crop so as not to let it go to waste or to the birds.
Freezing Tips
Freezing raspberries could not be simpler.  You need to take a little care and attention so your raspberries don't mush together and freeze in a block.
Put the raspberries in a single layer and spaced a few millimetres apart on a baking tray – try to use one with raised edges rather than completely flat. I know this sounds obvious but I learned my lesson in common sense here as they all slipped into the freezer compartment!
Put the tray into the freezer, keeping it level and freeze until the fruit is solid. I'd leave it for a day at most because otherwise you will get freezer burn.
Take the tray out of the freezer and transfer the raspberries into plastic freezer bags. Make sure you take out as much air as possible before sealing. You can do this by using a straw and sucking the air out of the bag. It tastes of raspberries!
Seal the bag, label it and return to the freezer until you need to use them which should be within the next 6 months.
A Little Simple Inspiration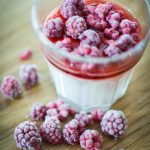 Print Recipe
Vanilla Pannacotta with Frozen Raspberries
Notes
Don't let the word 'pannacotta' put you off this decadent dessert.  I used to think it was going to take me all sorts of thermometers and setting agents to get this right but it's not that much of a drama at all.  It's actually very quick to make and the slippery, melting texture is just perfect for frozen raspberries.
You'll need
250ml full fat milk
250ml double cream
25g granulated sugar
1 heaped tsp vanilla bean paste
Your choice of gelling agent.  I used 3g Vegetarian gel powder for the quantities above
4 large ramekins or mini glasses as shown
Raspberry flavoured cordial or Vimto or Ribena will do
Raspberries from the freezer
To make it
Put the milk, cream and sugar into a heavy bottomed saucepan and heat so the sugar is fully dissolved.  Do not go past a simmer and keep stirring gently.
Add in the gel powder and simmer for a few minutes. It will thicken noticeably.
Stir in the vanilla bean paste and then pour it out into the glasses so they are all equally filled.
Leave the glasses to cool completely and then put them in the fridge.
When you are ready to serve, pour over some cordial and top with the frozen raspberries.
You could top this with any fruit really - mangoes with mango purée underneath, strawberries with some slushy jam, blueberries and lemon curd....
What do you do with frozen raspberries? 
Related articles