With the recent weather we have been having in England it's perhaps more apt to call this post 'Summertime Slipping'.  It really does seem like those summer days have drifted away.  But one thing has been constant for us at home this summer.  A little Friday night tradition we've started.  Cocktails and canapés.
The tradition starts with blinis
Blinis are the basis of our supper on a Friday night.  They a brilliant for a canapés and a great way to use up those leftovers in the fridge – of which we have lots as it's school holidays and the girls are at home.  Our blinis are a simple pancake mix which is a little thicker than usual.  They take a little effort to make but as they are so expensive to buy it's worth a go.  Try this recipe using rye flour from Kellie at Food To Glow.
And then the cocktail fun begins
Then we line up a range of juices, cordials and glasses for our cocktails.  Some vodka, gin and rum for the adults.  Mini paper umbrellas, cocktail sticks for threading fruit and sugar to crystallise the glasses are also essential.
Experimenting is part of the fun
My favourite cocktail until recently would have been a Margarita or perhaps a Mojito but after attending a recent class at Mixology in Shoreditch I've changed my mind to an Elderflower Julep.
It's a blend based on the Middle eastern custom of infusing mint and sugar into soft spirits.  The version we learned used gin, (which I love), elderflower cordial, (another favourite) and a little mint of course.  I also mixed in some blackberries to keep it a little more seasonal.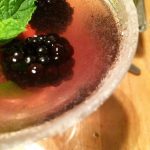 Print Recipe
Blackberry and Elderflower Julep
Servings: 1
Notes
You'll need
8 – 10 mint leaves
1 lemon wedge
2 measures of gin
1 measure of elderflower cordial
1 measure of blackberry juice - about 6 large blackberries
To make it place all the ingredients into a cocktail shaker with lots of ice.  Mix it all up for a few minutes, pour it into your glass through a strainer. Easy!
I was invited to try my hand at cocktail making by Three in celebration of the new countries added to their Feel at Home service which enables travellers to use their phone abroad with no extra or hidden costs.  It was a fun night but I rather prefer my disorganised approach to making cocktails.  A bit of this and a bit of that and then boom! The perfect mix.  (Downside is I never remember how to recreate it!)
What's your favourite cocktail? Do you have any summery Friday night rituals?