It's been decidedly warmer over the last few days in London.  Here's me prepping myself up with porridge in preparation for Autumn setting in but as my daughters have gone back to school, the sun has come out.  Of course it has.  It's England. This always happens.
Well … if the weather is going to get all in a muddle then so am I.  It's time to enjoy that late sunshine for a little longer and that means a little more summertime sipping and a little muddling.
Muddling is an art…
To muddle is to combine ingredients, usually in the bottom of a mixing glass, by pressing them with a muddler before adding the majority of the liquid ingredients.  A muddler is simply a long stick with a rounded base.  It's used to crush flavours out at the bottom of a glass.
Muddling mint is even more of an art…
I have a huge crop of mint in the garden and it's a fiddly little leaf to use in cocktails.  If you look closely you will notice little veins.  These contain chlorophyll which is bitter in taste.  So if you've ever had a bitter tasting cocktail then the chances are the mint leaves were shredded releasing this bitter flavour.
The best way to add mint leaves to cocktails is to muddle them carefully.  Add them to the glass first, then add the sugar, fruits or whatever your recipe calls for.  And then press down and twist ever so slightly.  This should release a lovely aroma and not a bitter after taste in your cocktail.
Practising with some Mai Tais
On holiday in Thailand recently, I got rather hooked on Pomegranate Mai Tais which were the signature welcome cocktail at our resort.  The bartender used fresh pomegranates and muddled them along with limes, mint, brown sugar and a little orange zest.  It took a few days to get the brown sugar balance right but the barman seemed to enjoy the banter with us encouraging more, more, more.  We had fun, practised a little Thai and then settled back on the wooden swing with sand between our toes to watch the stars come out over the ocean.   I fancied a little bit of these Thai memories on tonight.  It's been a tough week!
I didn't have any fresh pomegranates so used some POM which is 100% pomegranate juice.  It worked a treat.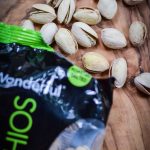 Print Recipe
Pomegranate Mai Thai
Servings: 1 large glass
Notes
 You'll need
2 measures rum - I used Bacardi
3 measures POM 100% pomegranate juice
1 teaspoon of soft dark brown sugar
1 tangerine or clementine
4 mint leaves at the bottom of the glass and a few more for garnishing
1 quarter of lime
To make it
Cut the tangerine into quarters and squeeze each segment into a large tumbler.
Add the brown sugar and the mint leaves and muddle them together with the back of a spoon or a pestle softly.
Add the rum and the POM.
Fill the glass with ice cubes and then stir it all gently together taking care to mix the orange segments, mint leaves and sugar up into the drink.
Add a squeeze of lime and then garnish with the mint sprig and a slice of orange.
We enjoyed these with some wonderful salt and pepper flavoured pistachios because I always need a salty nibble with a cocktail or a blini of course.
Thanks to the team at POM and Wonderful Pistachios for commissioning this post and recipe.  It triggered some lovely holiday memories.
Related articles