My daughters love peanut butter.  I love peanut butter! But aside from one particular brand (Whole Earth) there are too many nasties in commercially made peanut butter so every now and then it's nice to make your own.  This recipe just has just a few ingredients.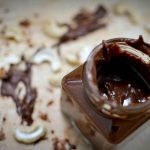 Print Recipe
Roasted Cashew and Chocolate Nut Butter
Notes
You'll need
200g cashew nuts
1 tbsp rapeseed oil
3-4 tbsp good quality cocoa powder
Honey or icing sugar (optional)
To make it
First roast the cashews in a 280C oven for about 10 minutes or so – they should be nice and brown on the edges. Alternatively lightly toast them lightly in a dry frying pan. You just need to release a little of the oils and it adds to a nuttier flavour.
Leave the nuts to cool then put them into a food processor for about 20-30 minutes.  I used my Froothie to get a really thin grain.  Don't panic while it is mixing because it will go through a few stages - breadcrumbs, a clump of little balls, a big ball and then a smooth paste that looks just like peanut butter. You will however need to scrape the sides of the bowl from time to time.
Finally add the rapeseed oil and cocoa powder and give it all a final mix.  At this stage, have a taste.  If you like it a little sweeter add some honey or icing sugar.  You can also add more cocoa powder.
It's really that simple.  You can vary the nuts or make a mixed nut version to use up small quantities.