"There was a table set out under a tree in front of the house, and the March Hare and the Hatter were having tea at it: a Dormouse was sitting between them, fast asleep, and the other two were using it as a cushion, resting their elbows on it, and talking over its head. `Very uncomfortable for the Dormouse,' thought Alice; `only, as it's asleep, I suppose it doesn't mind.'
The table was a large one, but the three were all crowded together at one corner of it: `No room! No room!' they cried out when they saw Alice coming. `There's plenty of room!' said Alice indignantly, and she sat down in a large arm-chair at one end of the table." Alice In Wonderland, Chapter 7
I do rather love that introductory paragraph to perhaps one of the most famous tea parties in the world.  It always made me wonder what was on the table aside from the tea that made Alice so indignantly want to sit down.  When I first read the book I did't speak English all that well but had a mind full of images of different teapots with different teas, very British scones and sandwiches made from soft, white bread and cakes.  Not the square cakes my mother used to make in our roasting tray because we had no cake tins, but the properly British round ones with cream and strawberries, chocolate and cherries.  Magical.
Every now and then it's fun to create that tea party at home.  A little change to dinner parties and an event to celebrate this glorious British summer we are having.
Let's start with tea
I cannot believe the explosion of artisan tea in the UK.  It's great to see. Here are a few online shops I'd suggest to help you get started in discovering loose leaf tea
Cakes are of prime importance too of course!
So aside from the perfect scone here's what would be on my table.
Finally I think the table needs something tart. A lemon meringue pie or mini version using summer berries. This would work well with any green tea.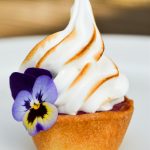 Print Recipe
Blackberry Meringue Pies
Servings: 12 -16
Notes
You'll need
Turn the pastry out onto a floured surface and roll it out to a few millimetres thick
Cut 24 circles using a 2.5 inch round biscuit cutter.
Grease the 24 hole mini muffin tray with melted butter and then push the pastry circles into each muffin hole.
Once you've done all of them, put the tray in the freezer for 10 minutes and put the oven on to 200C.
Take the tray out of the freezer and prick the pastry lightly with a cocktail stick or little fork and then bake for around 8 minutes or so until you see a golden brown colour. It may puff up but you can gently press this down after baking or before baking, line the pastry with foil and baking beads, bake with those on for about 5 minutes and then bake for a few minutes more after taking them off).
Take the tray out of the oven and leave to cool completely.
While it's cooling make the meringue by whisking the egg white until you get soft peaks.
Put the caster sugar and water in a small saucepan and heat gently til you get a syrupy, bubbly texture – this will be 115C – 118C on a sugar thermometer.
Slowly pour the sugar syrup into the egg whites while whisking all the time and then keep on whisking until you get stiff, satiny peaks.
When this is ready, spoon some blackberry curd into each pastry shell and then pipe a swirl of meringue on top.
Finally using a blow torch, gently scorch the meringue.
And if you just want someone to make it all for you? 
If all that seems far too much effort then go and enjoy someone else's hard work! Here are a few London recommendations but check  The Afternoon Tea website for offers before you go.  They change all the time.
So are you a fan of afternoon tea? What would be on your table? where is the best afternoon tea you've had? I'm always on the lookout!