I haven't spent much time on the allotment this year.  What with opening up a cafe, settling into a rhythm of freelance work and just general family life it's been hard to get there on a regular basis.  My crops have suffered as a result but if there's one veg that never lets me down it's beetroot.
I planted quite a lot in late Spring and as I've run in and out with watering duty it's caught my eye with a mental note of "I must pick some next time".  Well "next time" turned from days to weeks to a few months and when I finally got around to pulling it out last week, here are just some of the giants I found.
I have so many ideas for using up this bounty but the colour was just too irresistible for pasta again.  Instead of beetroot tagliatelle like last time I opted for gnocchi as the leaves were good eating for a pesto.  It was earthy as you'd expect, rather sweet and enormously filling.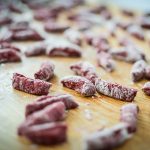 Print Recipe
Beetroot Gnocchi
Servings: 4 -6
Notes
This recipe uses half the amount of beetroot to potatoes but you may need to play with the balance depending on how you cook your beetroot.  I roasted mine so it was less watery.
2-3 tbsp sunflower oil
500g beetroot
1kg floury potatoes such as King Edward or Maris Piper
500g OO grade pasta flour or plain flour
1 egg, beaten
1tsp fine table salt
To make the beetroot gnocchi
Preheat the oven to 200C and oil a roasting dish.
Peel and chop the beetroot into rough 2 inch chunks, rinse and then toss into the roasting tray.  Make sure they are evenly coated in the oil and then roast for about 20-30 minutes til soft.
Meanwhile peel and chop the potatoes in the same way, pop them into a saucepan, fill it with water and then boil them for about 20 minutes until soft.
Drain the potatoes and mash them in a large bowl using a potato ricer so you get nice a smooth consistency. Set aside.
Once the beetroot is cooked, puree it in a food processor, pass it through a sieve to remove large lumps and then add this to the mashed potatoes and mix together.
Now add the 300g flour and the egg and start to combine it all together.  Add the rest of the flour a little at a time until you have a nice firm dough which is not sticky.  You might not need all the flour.
Form the dough into a two equal ball shapes and then divide them again so you have four balls.
Dust your work surface with a sprinkling of flour.
Roll each ball of dough into a long sausage shape - the thickness will depend on how fat you want your gnocchi to be.
Cut 1 inch chunks out of the dough sausages and there you have your little gnocchi ready to cook.
Bring a large pan of salted water to the boil and then drop a handful of gnocchi in at a time. They will float to the surface when they are done. You can then scoop them out with a slotted spoon and pop them into a warmed bowl while you cook the rest.  I usually drizzle each batch with some olive oil so prevent any sticking together.
I served these tossed with beetroot leaf pesto which I made using about 20 beetroot leaves (around 500g), 200g sunflower seeds, 5-6 tbsp of extra virgin olive oil and the juice of half a lemon.  I put all these ingredients into a food processor and whizzed them up to a nice puree.  We also had some broad beans in the freezer so I scattered those on top too.
I've joined a few blogs in celebrating this abundance of extra veg in my kitchen this month.  If you haven't visited them before they're full of lovely, easy ideas:  Veggie Desserts, Utterly Scrummy and Fuss Free Flavours
Do you make gnocchi with different types of vegetables? What sauces do you serve it with? 
Some gnocchi inspiration