It's a freezing, wet, windy day in North London.  I tried various things to get properly warm this morning and had countless cups of tea but nothing seemed to hit the spot. There was much paperwork to be done but I sought refuge in the kitchen instead of the office. It's the warmest place in the house.  I have two ovens and they've been on the go for the last couple of hours.  Some biscuits for the girls to snack on when they get home and a pasta bake prepped for dinner.
Yes I did say pasta bake.  I was chatting on Twitter earlier this week about these being dull and boring vegetarian options nowadays in restaurants. I want something more adventurous. More interesting.  More creative.  But truth be told, on a day like today when I'm at home I just want some pasta and melted cheese.  The ultimate in comfort food.  Stodgy but tasty and just enough to induce a little snooze.  And they can be adventurous, creative and interesting.  It just depends on the fillings and toppings right?
Starting with good pasta dough
I've tried a few recipes for pasta dough but tend to stick with the 100g of flour and one egg ratio.  I rather like mixing it the old fashioned way by hand.  It's hard going sometimes with the kneading but it has warmed me up today. If you can't find the 00 grade flour just blitz some strong plain flour in a food processor. It's a good enough substitute.
Get creative with fillings 
My girls generally come up with these based on what's hiding in the fridge and needs using up.  Usually we have a ricotta based one and then something a bit chunkier.  Here are a few ideas
Today I've opted for red peppers, sun dried tomatoes and charred aubergine.  I made the tomatoes in the oven last week and have a nice batch to use up. As the oven was on for cakes I popped the red peppers in to roast off with some rosemary from the garden. The aubergine idea popped into my head because I rather fancied standing and charring it to warm myself up after popping outside to fetch the rosemary!
Keep It Simple and Use a Small Wine Glass as a Template
I was given one of those ravioli makers once.  I have never managed to make good ravioli using it.  They are too small.  The sides never stick together and the whole process ends up being a waste of pasta dough.  Instead I use a small wine glass.  You could also use pastry cutters.  You then get lovely circles which hold plenty of filling.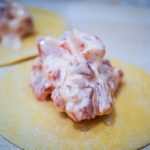 Print Recipe
Sun Dried Tomato, Aubergine and Ricotta Ravioli With Red Pepper Sauce
Notes
For the pasta dough
100g Pasta flour - OO Grade
1 large egg
For the filling
200g ricotta cheese
1 aubergine
15 - 20 sundried tomatoes in oil
salt and pepper to season
1 egg, beaten
For the sauce
1 tin of tomatoes
3 red peppers
2 sprigs of rosemary
1 small onion
1 large clove of garlic
salt and pepper to season
2-3 tbsp olive oil
2 slices crusty bread, blitzed to make breadcrumbs
100g grated parmesan
Equipment
A pasta rolling machine
An 23cm ovenproof dish
To make it
First make the pasta dough as it needs to rest for about an hour.
Put the pasta flour into a mixing bowl, make a well in the middle and add the eggs.
Combine slowly with your fingers until it comes together into a dough.
Knead the dough for a couple of minutes.  It will be quite firm - not gooey and soft.
Roll it into a ball, wrap it in clingfilm and then pop it somewhere cool for an hour.
Next up, roast off the red peppers by cutting them in half, drizzling with a little olive oil and then roasting them in a 180C oven for about 20 minutes. Pop the rosemary on the baking tray too.
Next char the aubergine by holding it with some tongs over a naked gas flame.  Turn it every few seconds until the skin is blistered and coming away.  Peel the skin off, mash the aubergine up roughly and leave to drain on a kitchen towel.
Now make the sauce. Chop the onion and garlic finely and fry gently in some olive. Once they are soft, puree the tomatoes and roasted peppers and then add these in. Have a little stir and then leave to simmer on a really low heat with the lid on for about half an hour.  It should be thicker but still have some water content.
Meanwhile make the ravioli filling.
Chop the sundried tomatoes into half centimetre pieces into a small bowl and then add in the ricotta and mashed aubergine.
Season and then pop this in the fridge while you roll out the pasta and make your ravioli.
Flour your work surface and the rollers of your pasta machine.
Get your chilled ball of pasta and flatten it into a rectangle shape.
Set the pasta machine's rollers to their widest setting and then roll the pasta through the rollers.
Narrow the rollers by changing the machine setting by one notch and then pass the rolled pasta through the rollers again.
Repeat this process until the pasta sheets are a few millimetres thin.
Lay them out flat and then use a 7cm pastry cutter or small wine glass to cut your ravioli circles.
Now place a little filling in the centre of one circle and then put another circle over the top.
Seal the edge down with a little beaten egg and then use a fork to pinch and flute all the way around.
Repeat this for all your circles
When you are ready to bake your ravioli. Put the oven on to 180C.
Pour a little of your pasta sauce into the bottom of your oven proof dish and then place a layer of the ravioli on top.
Drizzle over a little olive oil.
Pour over the rest of the sauce, sprinkle over the breadcrumbs and grated parmesan.
Bake for approx 20-30 mins.  The sauce will cook the ravioli so it shouldn't be too thick.
What do you do to warm up? What's your go to ravioli filling?