Are you fed up of chocolate yet?  I'm not but I'm getting there.  Even my girls couldn't finish their stash yesterday.  There is a bowl of odd bits of shell and Lindt Bunny bottoms. I know it will all get eaten but it's nice to have the excess to do a bit of baking with.
This recipe looks complicated but it honestly isn't.  It's a pastry tart filled with chocolate mousse topped with chocolate krispie mixture and mini easter eggs.
The pastry
Pastry making fits in with my marathon training and running schedule so I tend to make it as I need it. If it's not your thing then just buy it. Seriously there are some great products in the supermarkets now that work really well so let's not get all purist.  I found this fabulous supplier on Amazon who does all sorts of shapes.
The chocolate mousse
The pastry case is filled with chocolate mousse and this is the simplest recipe I've found. No fuss with Italian meringues etc.  Another super easy option is to make it with mascarpone.  About 100g chocolate melted and mixed with 3 tablespoons of mascarpone.
Chocolate Krispie mix
Finally you've got the good old chocolate krispie cake mix on top except I have used Shredded Wheat to make it look more nest like but Rice Krispies and Cornflakes or an amalgamation of them all work well. whatever the children fancy using really.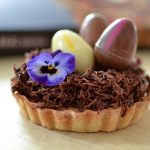 Print Recipe
Chocolate Easter Tarts
Notes
This recipe makes ten 7-8cm tarts.

For the pastry
200g plain flour
100g cold unsalted butter
2 tbsp icing sugar
Pinch salt
1 medium egg
2 tbsp ice cold water
For the mousse
100g chocolate Easter eggs
2 egg yolks
100 ml double cream
2 egg whites
2 tbsp caster sugar
For the nest and decoration
200g chocolate Easter eggs
6-8 shredded wheats
Mini chocolate eggs
Small edible flowers like violets or pansies
To make them
First make the pastry.  Put the flour, salt, icing sugar and butter into a food processor and blitz to fine breadcrumbs.
Beat the egg and water together and then pour slowly into the processor while the blade is running until a rough dough ball forms.
Turn it out onto your work surface and knead gently into a sausage shape.
Cut 10 equal pieces, roll them into a small ball, flatten and pop into the fridge for at least 30 minutes.
Put the oven on to 200C.
Grease and line ten loose bottom 10cm tart tins with some butter.
Roll out each pastry ball til it's a few millimetres thick and then line each buttered tart tin with the pastry making sure you push it down firmly.
Lightly prick the base and pop the tart tins in the freezer for 10 minutes.
Lay some foil or cling film over each tart tin and then fill with baking beads, rice or kidney beans to weigh down.
Bake these for 8 minutes and then take the beads/rice/beans out and pop them back in the oven to brown for another 3-4 minutes.
Leave to cool in their tins.
Next make the chocolate mousse. Melt the chocolate in the microwave – do this in 30 second bursts so as not to burn the chocolate.  Or simply put a heatproof bowl over a pan of simmering water and let the chocolate melt.
Leave the chocolate to cool slightly – it should be warm and runny but not hot otherwise when you add the eggs they will scramble.
Whisk the cream til fluffy and set aside.
Whisk the egg whites til fluffy soft peaks form and then add the caster sugar one teaspoon at a time while still whisking until it's stiff and shiny.
Beat the egg yolks into the melted chocolate quickly – it should get thick, glossy and a little grainy.
Beat the whipped cream into the chocolatey mixture until it's light and fluffy with no grainy texture.
Now gently fold the egg whites in a little at a time.  The slower the better as it will make your mousse very light.
Fill your pastry cases with your chocolate mousse and pop them in the fridge to set.
Finally make the chocolate nest. Melt the dark chocolate in the microwave or over a pan of simmering water as before.
Leave to cool slightly and then crumble in the shredded wheat and stir to distribute the chocolate evenly.
Arrange this mixture gently on top of the mousse tarts and flatten slightly in the middle for the eggs to sit on.
leave to cool slightly and then decorate by placing the chocolate eggs in the middle and some flowers around the side.
How do you use up your chocolate Easter Eggs? Or do you diligently eat your way through them? 
Here are a few ideas I rather like too…