Have you noticed that tulips are everywhere at the moment?  I've been about and about today and noticed all sorts of different varieties.  They are about the only plants that have come up at my allotment too.
The first thought that has come to mind has been to wonder if they are an edible variety. Many varieties are edible.  There's a great list in this article by a fellow Great British Bake Off Alumni, Lucy Bellamy.
Leaves or bulbs? 
Well the truth is they are both edible BUT you need to have the right variety and prepare them in the right way.  Otherwise you could get serious food poisoning!
The bulbs were a staple for the Dutch during the second world war as there were so many and Office for Food Supply  pronounced them fit for consumption and issued some leaflets to help with preparation.  This excerpt from the book "The Hunger Winter: Occupied Holland, 1944-1945" by Henrie A. van der Zee gives an interesting insight into the time:
"We were advised to peel them, cut them in half and remove the bitter little yellow core. Almost everybody tried it out and nobody liked them, but the Dutch saying 'Hunger sweetens even raw beans' was now more true than ever, and Dr. Mees discovered that the bulbs were 'not too bad' when boiled like potatoes… Rather better was tulip soup, the authorities had advised. 'Take one litre of water, 1 onion, 4-6 tulip bulbs, some seasoning and salt… one teaspoon of oil and some curry-substitute. Cut up the onion and brown together with the oil and the curry. Add water and seasoning and bring to the boil, while grating the cleaned bulbs into the boiling liquid. Add salt to taste.' It had virtually no nutritional value, but it filled the stomach. One had to be careful not to eat too many tulip bulbs as they could cause indigestion…"
Oh dear.  Luckily the petals are more tasty.  They are most definitely savoury versus sweet and the varieties I have tried vary from spring oniony in flavour to a crisp lettuce with radicchio undertones.
The petals lose their colour in cooking – even with light steaming.  I made a wonderful stuffed tulip recipe from the Great British Chefs website and was sure to use a dark coloured flower.
So in this glorious sunny weather, I'd say the best way to experiment is to use the petals as a container for dips.  They then make the prettiest canapes! Here's a really easy goat's cheese dip that you can use to dollop onto your petals.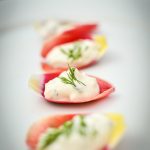 Print Recipe
Tulip and Goat's Cheese Canapes
Notes
You'll need
100g soft goats cheese
4 heaped tbsp plain yoghurt
2 tbsp fresh dill, finely chopped
2 tbsp fresh chives, finely chopped
To make the dip simply mix all the ingredients together and season to your taste.

To prepare the tulip petals, just trim the bottom of each one with a pair of scissors or a sharp knife.  I use a thai fruit carving knife as it's thin and you can angle it exactly as you want to. If you don't have one of those a paring knife would work just as well.

Once you have all your petals, pop them into a bowl of cold water til you are ready to serve and then dollop some of the goat's cheese mixture on top and decorate as you wish on a platter.
Why not pin this idea for later or take a look at my Pinterest board on edible flowers