When I lived in Japan I didn't eat fish and so I missed out on sushi. I kick myself now. I could have had four years of the best sushi in the world but at the time I was too afraid of 'fishy' fish like salmon and stuck to the safe vegetarian options and cooked prawns. One day I will go back and consume copious amounts. Til then I'll have to make do with London's offerings.
A creative and humble chef – Hideki Hiwatashi 
This week I was invited to Sake No Hana which is part of the Hakkasan Group. Our Chef host was Hideki Hiwatashi. Most chef training is tough but I think the Japanese structure is probably one of the toughest. Hideki spent 13 years in training which included spending time with fishmongers learning to catch and kill the fish. It's common practice in Japanese culinary training as is working on farms to learn about feeding and killing animals and growing vegetables, giving chefs more respect for the produce they handle in the kitchen.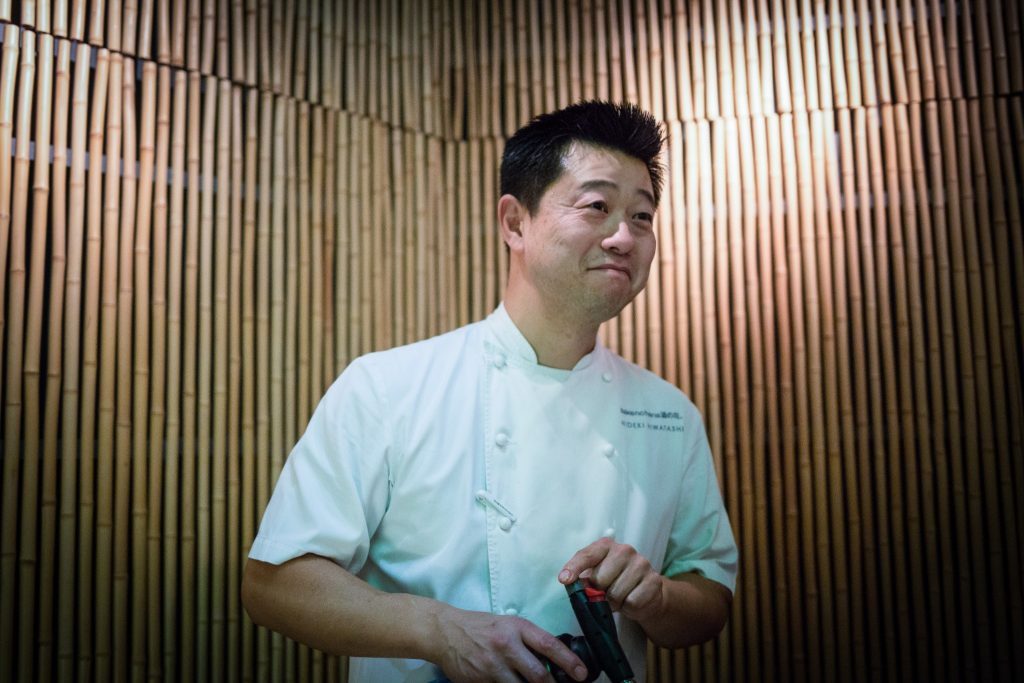 He was amazing to watch. With the same calm manner that many Japanese do and a huge sense of pride in his home of Hokkaido, he showed us how to prepare a salmon for sushi. Now I have done this once and it took me a long time with a lot of mistakes and a few different knives. Hideki made it look effortless and was done in about 5 minutes. But he must have done hundreds in his career.
Norwegian Salmon Sushi
The salmon he was preparing was from Norway. It hasn't always been a sushi dish. Hard to imagine right? It wasn't until the 1980s when the Norwegian Fisheries Minister began 'Project Japan' that it started to appear widely in menus.  The project was aimed at introducing Japanese chefs to the quality of Norwegian salmon which goes from the sea to arriving in Japan in just 36 hours. The farmed salmon can then be used raw to make sushi and sashimi. It doesn't need to be frozen first like other fish.
Chef Hideki had prepared a menu of stunning dishes for us. All using fresh Norwegian Salmon.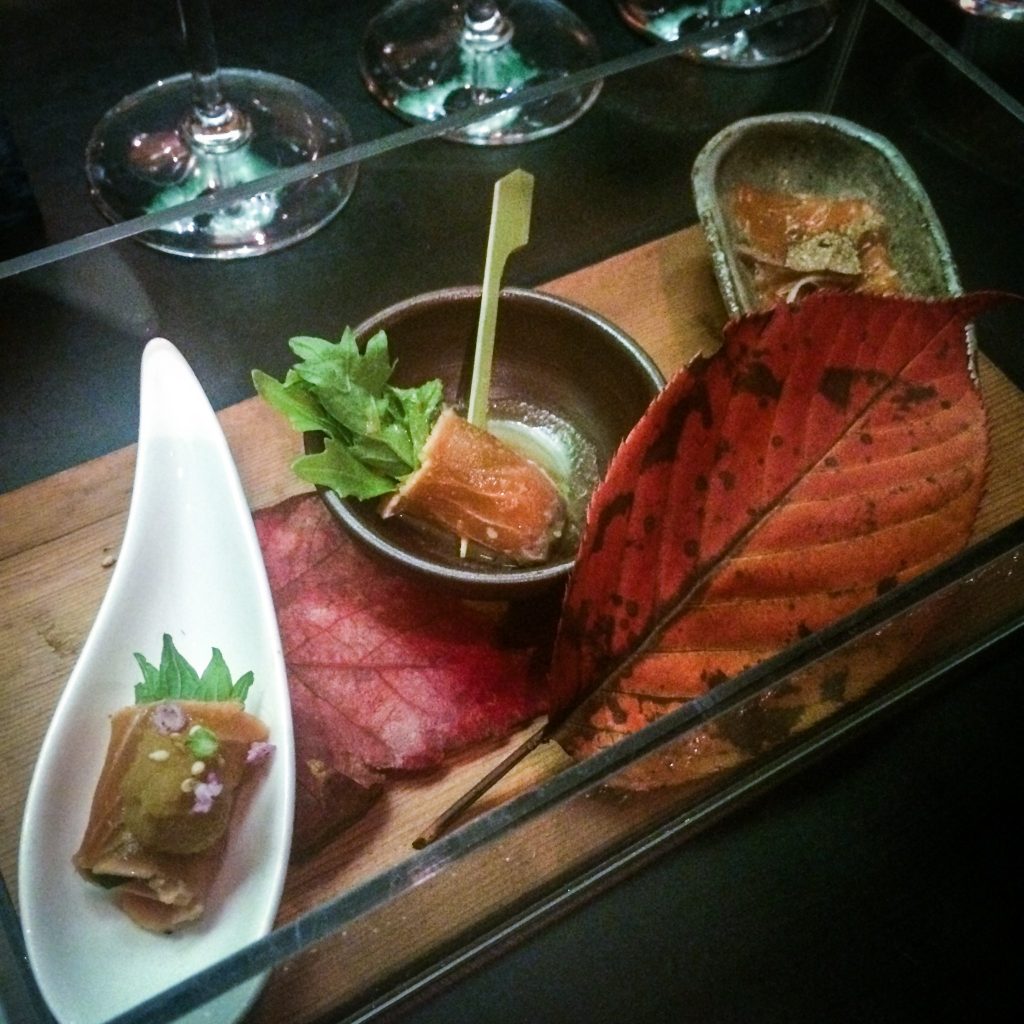 Revisiting my love for sake
Each was served with a suitable sake. Now I have very fond memories of sake. I remember many after work sessions in Tengu – a pub chain in Tokyo. My most memorable was queuing on New Year's Eve at Meiji Jingu Shrine to pay my respects to my elders, ding the huge bell and receive a hot glass of Amasake in return. My most rewarding was climbing to the top of Mount Fuji for sunrise and buying a horrendously expensive hot sake to toast the achievement.
The sake we tasted was from Tengu Sake.  A company I am so glad to know about as I loved drinking proper sake again.  It's brewed like beer and drunk like wine. I had forgotten how much I loved relaxing with sake of an evening.
I think we had the best of the best as they were all wonderful but unique in flavour – Konishi Gold, Daiginjo Nama Chozo, Tatenokawa 50 Stream,Junmai Daiginjo, Gozenshu 9 Mountain Stream, Junmai Nama Bodaimoto.
All of the dishes had a theme of autumn running through them. 'Koyo' is the term for 'leaf changing' in Japan. It's a huge event with people taking holidays to see the best regions. Hideki has carried this through into his presentation beautifully.
It was a real bonus to taste these wonderful salmon dishes. Each one was so delicate with very specific flavours.  The highlight for me was the paper thin Salmon Usuzukuri which had a black truffle and ponzu sauce with ginger and shavings of fresh truffle.
We were lucky enough to also have a dessert to end our tasting. Now this was something very special. A Matcha Panna Cotta with Matcha Sponge and Fresh Mango. Seriously one of the best desserts I have eaten in a long time. I'm not a huge matcha fan but with mango? Oh it's utterly delicious!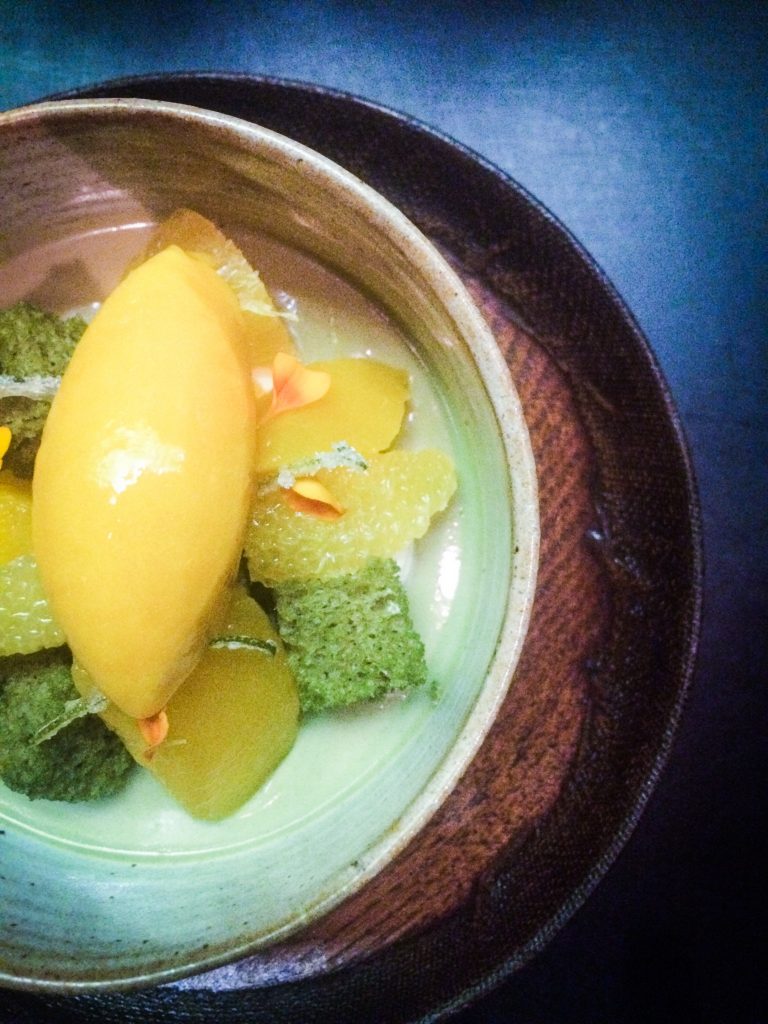 Have a go
Thank you to the team at Sake No Hana, The Norwegian Seafood Council, Tengu Sake and Great British Chefs for inviting me to this magnificent tasting. You have reignited my passion for Japanese food and sake!
If you would like to have a go at creating one of these amazing salmon dishes at home, try this one from Hideki – Spicy Salmon Uramaki. It looks complex but once you have mastered making sushi rice, it's not that complicated.  My advice would be to make double the volumes because when you first start making sushi, it goes a bit wrong and you end up eating the mistakes along the way which is half the fun!