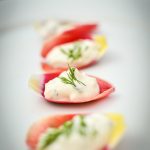 Print Recipe
Tulip and Goat's Cheese Canapes
You'll need
100g soft goats cheese
4 heaped tbsp plain yoghurt
2 tbsp fresh dill, finely chopped
2 tbsp fresh chives, finely chopped
To make the dip simply mix all the ingredients together and season to your taste.
To prepare the tulip petals, just trim the bottom of each one with a pair of scissors or a sharp knife.  I use a thai fruit carving knife as it's thin and you can angle it exactly as you want to. If you don't have one of those a paring knife would work just as well.
Once you have all your petals, pop them into a bowl of cold water til you are ready to serve and then dollop some of the goat's cheese mixture on top and decorate as you wish on a platter.