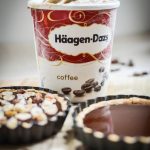 Print Recipe
Chocolate and Hazelnut Tarts
You'll need
200g plain flour
100g butter plus 30g extra for greasing the tins
pinch salt
1 egg
2 tbsp iced cold water
400ml double cream
200g dark chocolate (80% cocoa solids)
100g hazelnuts
pastry tins - I used 8cm round ones
To make them
Put the salt, butter and flour into a food processor and press the pulse button a few times til you get a breadcrumb like texture.
Beat the eggs and water together and then pour these into the processor.
Pulse a few more times until you get a dough ball.
Cling film the dough ball and pop it into the fridge (while you go for your run!).
Grease your pastry tins and then divide your dough up into 10/12 equal portions.
Roll each one out into a circle to fit the tin.
Line the tins with your pastry circles, prick the bases with a fork and then pop them in the fridge (while you go for run number 2).
Preheat the oven to 180C and then line your pastry tins with some cling film and pile on some baking beans.
Bake these for 15 minutes and then remove the beans and bake again for another 15 minutes until they are golden brown.
At the same time, put the hazelnuts into an oven proof dish and put them in the oven to toast lightly.
Take the tins and the hazelnuts out of the oven and leave them to cool while you make the filling.
Heat the cream on a gentle heat until it begins to simmer.
Stir in the chocolate and keep stirring until it has all melted and you have a glossy ganache.
Pour the ganache into the baked pastry cases and then sprinkle over some chopped hazelnuts.
Leave the chocolate to set if you wish or serve them warm with a dollop of the Haagen Dazs Coffee ice cream on the side.