There is something rather therapeutic about baking pastry. It's the stages I think. Making the dough, chilling the dough, rolling out the dough and finally baking. The stages fit rather well with my running schedule. I'm running for Action Against Hunger in the 2016 Virgin London Marathon. I've started training now because I'm a slow and steady kinda runner vs a speed chaser. My pastry running schedule is as follows:
I make the dough and then go for a run while it chills in the fridge. This is a minimum of 45 minutes.
I roll it out, line the pastry tin and then pop it back in the fridge for another run around the block. Again another minimum of 45 minutes.
I pop the oven on and while that warms up I do 15 minutes of skip jumps in the garden.
I line the pastry tin with baking beads and then while that bakes I have a shower.
I take the baking beans off and make a quick smoothie or milkshake while it browns off.
See!? It totally works!
Of course the downside of the pastry making is the pastry eating.  Yes it is rather calorific but it is Friday after all AND I am running a marathon – a whole 26 miles – so I think a little pastry indulgence is totally called for.  In fact it's Friday so a little overindulgence is perfectly acceptable.
You see Friday is usually Haagen Dazs Cookies and Cream Day.  The only day I indulge in a tub of ice cream. (Yes I did say a 'tub' of ice cream.  Some people have their wine or beer on a Friday night. I have my ice cream).  Today however I have a tub of Coffee Haagen Dazs.  It's a new flavour which combines Brazilian Coffee with a usual ingredients of cream, egg yolks, milk and sugar. It's a wonderful delicate flavour which reminds me very much of my usual Single Shot Flat White.
I've paired it with these Chocolate and Hazelnut Tarts because these are the two undertones in my favourite coffee – Rave Signature Blend.  Together the whole thing is just pure Friday night indulgence.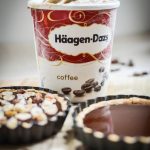 Print Recipe
Chocolate and Hazelnut Tarts
Servings: 10 -12 tarts
Notes
You'll need
200g plain flour
100g butter plus 30g extra for greasing the tins
pinch salt
1 egg
2 tbsp iced cold water
400ml double cream
200g dark chocolate (80% cocoa solids)
100g hazelnuts
pastry tins - I used 8cm round ones
To make them
Put the salt, butter and flour into a food processor and press the pulse button a few times til you get a breadcrumb like texture.
Beat the eggs and water together and then pour these into the processor.
Pulse a few more times until you get a dough ball.
Cling film the dough ball and pop it into the fridge (while you go for your run!).
Grease your pastry tins and then divide your dough up into 10/12 equal portions.
Roll each one out into a circle to fit the tin.
Line the tins with your pastry circles, prick the bases with a fork and then pop them in the fridge (while you go for run number 2).
Preheat the oven to 180C and then line your pastry tins with some cling film and pile on some baking beans.
Bake these for 15 minutes and then remove the beans and bake again for another 15 minutes until they are golden brown.
At the same time, put the hazelnuts into an oven proof dish and put them in the oven to toast lightly.
Take the tins and the hazelnuts out of the oven and leave them to cool while you make the filling.
Heat the cream on a gentle heat until it begins to simmer.
Stir in the chocolate and keep stirring until it has all melted and you have a glossy ganache.
Pour the ganache into the baked pastry cases and then sprinkle over some chopped hazelnuts.
Leave the chocolate to set if you wish or serve them warm with a dollop of the Haagen Dazs Coffee ice cream on the side.
Thank you to Haagen Dazs for commissioning this recipe and providing me with a lovely sample pot of the new coffee ice cream to try.  Thanks to them also for giving me a new Nespresso coffee machine to raffle off for my marathon fundraising.
What is your Friday night indulgence? 
Related articles