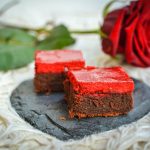 Print Recipe
Chocolate Brownies With A Cheesecake Topping
You'll need
200g soft unsalted butter
350g icing sugar
5 large eggs
200g dark chocolate – 80% cocoa solids
100g plain flour
400g cream cheese
1 tsp vanilla extract
3-4 tsp red paste food colouring
To make them
Preheat the oven to 170C and line a tray bake tin.
Make the brownie base first by creaming 200g of the icing sugar and the butter together until soft and fluffy.  You could use caster sugar but you will get a lighter sponge vs a dense brownie like sponge.
Beat three of the eggs and then slowly add them a little at a time beating well after each addition.
Add the flour and mix well.
Melt the chocolate in a heatproof bowl in the microwave at 15 second bursts.  When it's melted all the way through give it a stir and then pour into the above mixture and mix until it is all combined.
Pour it into the lined tray bake tin and set aside.
To make the cheesecake topping, beat the cream cheese and the remaining 150g of the icing sugar until you have a smooth batter and then add the other two eggs.
Beat with the vanilla essence until well combined.
Add the red food colouring to the level of intensity you wish.  I used Poppy Red Paste and then added a touch of Violet to get a deeper red.
Pour the mixture over the chocolate layer and then bake for 30 minutes.
Don't be tempted to leave it in longer. It will look uncooked but as long as the sides are slightly brown and the middle a little wobbly, it's done.
Let it cool and then chill for at least three hours in the fridge.
Slice with a knife – dip this in hot water between cuts as it will help to give you a clean finish.