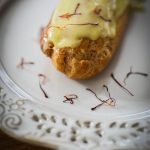 Print Recipe
Saffron Eclairs
You'll need
50g butter
75g plain flour
2 large eggs
300ml double or whipping cream
100g white chocolate finely chopped
Saffron or saffron liquid.  I used both.  The liquid was from Holy Lama Spice Drops.
To make them
Preheat the oven to 220°C and grease a large baking tray.
Beat the eggs together and set aside.
Sift the flour and set aside on a piece of paper.
Put the butter in a pan with 150ml water and heat until the butter melts.
Bring the mixture to the boil and then tip in the flour.
Take the pan off the heat and then mix vigorously with a wooden spoon til you get a smooth paste.
Pop the pan to the heat, stirring all the time to let the mixture dry out a little.  Keep stirring til it comes  clean away from the edges of the pan and forms a bit of a ball shape.
Remove the pan from the heat again and then plop the mixture into a bowl to cool.
Gradually add the eggs a little at a time, beating really well between each addition until the mixture is smooth and glossy.  You might not need all the eggs.  The mixture should just dollop from the spoon.
Spoon the mixture into a large piping bag fitted with a 1cm plain nozzle.
Spray the baking paper with some water - a fine mist - and then pipe the mixture on to the sheet in lengths, leaving room between each one.
Bake for 10 minutes, then turn the heat down to 190°C and bake for a further 20 minutes.
Transfer the baked eclairs on to a wire rack to cool completely.
Meanwhile, whip the cream and add a few drops of the saffron liquid to suit your taste.
Melt the chocolate in a heatproof bowl over a pan of boiling water.
Leave to cool and then stir in some strands of saffron.
When your eclairs are cool, put the whipped cream into a piping bag, make a couple of holes on the base of the eclair and then pipe a generous amount into each one.
Dip the top in the saffron flavoured white chocolate and leave to set.
These are lovely with some chai and equally good with coffee.