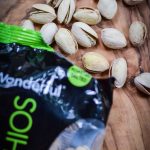 Print Recipe
Pomegranate Mai Thai
 You'll need
2 measures rum - I used Bacardi
3 measures POM 100% pomegranate juice
1 teaspoon of soft dark brown sugar
1 tangerine or clementine
4 mint leaves at the bottom of the glass and a few more for garnishing
1 quarter of lime
To make it
Cut the tangerine into quarters and squeeze each segment into a large tumbler.
Add the brown sugar and the mint leaves and muddle them together with the back of a spoon or a pestle softly.
Add the rum and the POM.
Fill the glass with ice cubes and then stir it all gently together taking care to mix the orange segments, mint leaves and sugar up into the drink.
Add a squeeze of lime and then garnish with the mint sprig and a slice of orange.