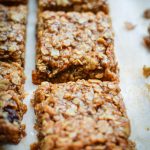 Print Recipe
Apple and Cinnamon Flapjacks
You'll need
180g soft unsalted butter
180g golden syrup
 180g muscovado sugar
400g Apple and Cinnamon Porridge Oats
To make them - about 16 squares
Preheat the oven to 150C and line a 20cm baking tin with greaseproof paper.
Melt the butter in a medium pan over a low heat.
Add the golden syrup and sugar to the butter and heat gently. Once the sugar is dissolved and the butter is melted, take the pan off the heat and stir in the porridge oats.
Pack the mixture into the baking tin and squash down with the back of a wooden spoon.
Bake for 40 minutes.
Remove from the oven, leave to cool for 15 minutes, then turn out on to a chopping board and cut into squares.