It's getting decidedly chilly in North London.  Oh yes it starts off all sunny and warm through the window but as soon as I open that kitchen door in the morning it's a little bit nippy.  Porridge is what that signals.  Porridge.
There are a myriad of different types of grains or cereals you can use to make porridge but I mainly eat is oats.  I was recently sent some Stoats Porridge Oats to try.
Scottish Founders with a mission to take porridge to the people
The business was founded by Tony and Bob and originally operated on the festival circuit out of a trailer – The Stoats Porridge Bar.  They did very well but because of the name, people expected porridge bars.  So the team developed the world's first porridge snack bars.  I was sent some of these too and I must admit that they've come in handy in the boot of the car and the desk drawer at work.  Not for breakfast I might add but for a snackette in traffic or in a back to back meeting filled day.
I much prefer the breakfast cereal.   I received the Sunflower and Poppy Seed and the Apple and Cinnamon.  I had the first one every day with different toppings.
The oats are thin and rolled and so this is a quick cook porridge ready in the microwave in 2 minutes.  If you prefer it on the stove it takes about 5-8 minutes. I have concluded my favourite topping is mango with a sprinkling of extra sunflower seeds and a drizzling of orange olive oil.  You can find some more inspiration on my porridge pinterest board.
I don't really like flavoured porridge oats and so I used the Apple and Cinnamon as a topping for crumble and made a batch of incredibly unhealthy porridge bars of my own otherwise know as flapjacks! They were really rather lovely with a dollop of Greek style yoghurt in the morning.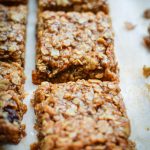 Print Recipe
Apple and Cinnamon Flapjacks
Servings: 12 -16
Notes
You'll need
180g soft unsalted butter
180g golden syrup
 180g muscovado sugar
400g Apple and Cinnamon Porridge Oats
To make them - about 16 squares
Preheat the oven to 150C and line a 20cm baking tin with greaseproof paper.
Melt the butter in a medium pan over a low heat.
Add the golden syrup and sugar to the butter and heat gently. Once the sugar is dissolved and the butter is melted, take the pan off the heat and stir in the porridge oats.
Pack the mixture into the baking tin and squash down with the back of a wooden spoon.
Bake for 40 minutes.
Remove from the oven, leave to cool for 15 minutes, then turn out on to a chopping board and cut into squares.
What's your favourite way to eat porridge oats? 
Related articles