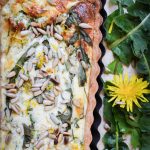 Print Recipe
Dandelion and Feta Tart
200g plain flour
100g cold butter - cut into cubes
20g butter – melted for greasing the baking tin
Pinch salt
1 egg
2 tbsp iced cold water
300ml crème fraiche
3 eggs
100g feta cheese
2-3 handfuls of dandelion leaves – roughly chopped
Salt and pepper to taste
50g sunflower seed or pine nuts
Method
First make the pastry.  Put the flour, salt and butter into a food processor and blitz on pulse setting until it all looks like fine breadcrumbs.  You could do this by hand if you don't have a food processer.
Whisk the egg and iced water together and slowly add to the breadcrumb mixture until it comes together into a ball of pastry dough.
Knead lightly on a floured surface and then roll into a sausage shape (if using a rectangular tin) or ball (if using a circular tin).  The shapes just make it easier to roll.
 Cover in cling film and pop into the fridge for at least 30 minutes.
When you are ready to make your tart, preheat the oven to 200C and grease your tart tin with lots of melted butter.
Roll your pastry out to around 5mm thick and then line the tart tin with it pressing it firmly into the corners and sides.  Cut off any overhang and press done again gently.
Put this into the freezer while you make the filling.
Mix the crème fraiche and eggs together well and season to your taste.  As with spinach you could also grate in a little nutmeg.
Add the chopped dandelion leaves and mix again.
 Take the lined tart tin out of the freezer, lay over some foil or baking paper and fill with some baking beans or rice.
Bake for 15 minutes and then take the beans off and bake again for 5 minutes.
Take it out of the oven and leave to cool slightly and then break over the feta evenly on the base so you have nice chunks in places.
Pour over the crème fraiche mixture and bake for another 30 minutes until it's golden brown and puffed up on top.
Leave to cool in the tin and meanwhile lightly toast the sunflower seeds or pine kernels in a dry frying pan.
Toss the seeds or kernels over the top of the tart when you are ready to serve.  We had this with a little side salad of tomatoes and onions.