Have you noticed that alongside the daffodils that seem to be everywhere, there are also bursts of yellow from dandelions? They too are so pretty and brighten up banks of green in our lovely city of London – or the suburbs in my case.
Like many, I've disregarded these these plants.  Sunny and cheerful as they are, they also make the lawn look rather untidy and grow up in places I don't want them to grow at the allotment.  But I was reading an article by Jekka McVikar that I stumbled upon online where she talks about the bitter dimension that's missing from our diets.  This is very true in my household as I rarely buy chicory or chard.
Easy to find with a myriad of health benefits 
It's not difficult to find dandelions but this time of year really is the best time to pick the leaves for eating.  They are only just starting to pop up, so source leaves that are thin and part of a plant that has not yet budded.  These will be earthy, a little nutty and not so bitter.  Also source them somewhere they are unlikely to have been chemically sprayed.  My allotment had lots. I had to stamp the nettles down a little to get to them but my neighbours humoured and helped.
In folk medicine the dandelion is a powerful healer.  It was used to purify blood and settle the digestive system.  It's said to be rich in vitamin K and A thus good for the skin and our eyesight and rich in fibre and iron – a bit like spinach I suppose.  What I like the most is that a handful has about 10% of the RDA of calcium so throw a few into a morning smoothie for breakfast or pick a batch on the way home for a curry or stir fry or salad.  Much nicer than popping a supplement pill.
A Feta and Dandelion Tart
I read that dandelion leaves retain their nutrients when cooked so I also made this Feta and Dandelion Tart.  It was difficult to taste the dandelion specifically but I felt rather virtuous knowing the leaves were so healthy and of course sourced at no cost.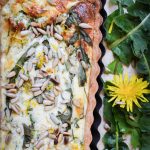 Print Recipe
Dandelion and Feta Tart
Notes
200g plain flour
100g cold butter - cut into cubes
20g butter – melted for greasing the baking tin
Pinch salt
1 egg
2 tbsp iced cold water
300ml crème fraiche
3 eggs
100g feta cheese
2-3 handfuls of dandelion leaves – roughly chopped
Salt and pepper to taste
50g sunflower seed or pine nuts
Method
First make the pastry.  Put the flour, salt and butter into a food processor and blitz on pulse setting until it all looks like fine breadcrumbs.  You could do this by hand if you don't have a food processer.
Whisk the egg and iced water together and slowly add to the breadcrumb mixture until it comes together into a ball of pastry dough.
Knead lightly on a floured surface and then roll into a sausage shape (if using a rectangular tin) or ball (if using a circular tin).  The shapes just make it easier to roll.
 Cover in cling film and pop into the fridge for at least 30 minutes.
When you are ready to make your tart, preheat the oven to 200C and grease your tart tin with lots of melted butter.
Roll your pastry out to around 5mm thick and then line the tart tin with it pressing it firmly into the corners and sides.  Cut off any overhang and press done again gently.
Put this into the freezer while you make the filling.
Mix the crème fraiche and eggs together well and season to your taste.  As with spinach you could also grate in a little nutmeg.
Add the chopped dandelion leaves and mix again.
 Take the lined tart tin out of the freezer, lay over some foil or baking paper and fill with some baking beans or rice.
Bake for 15 minutes and then take the beans off and bake again for 5 minutes.
Take it out of the oven and leave to cool slightly and then break over the feta evenly on the base so you have nice chunks in places.
Pour over the crème fraiche mixture and bake for another 30 minutes until it's golden brown and puffed up on top.
Leave to cool in the tin and meanwhile lightly toast the sunflower seeds or pine kernels in a dry frying pan.
Toss the seeds or kernels over the top of the tart when you are ready to serve.  We had this with a little side salad of tomatoes and onions.
What's your view on eating dandelions? Would you give them a go? 
Related articles