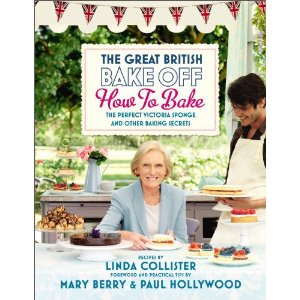 About the author
This book is by Linda Collister who is an experienced cook and baker. She trained at L'Ecole de Cuisine La Varenne in Paris and the Cordon Bleu in London. There are also forewords from the judges of the BBC TV series – Mary Berry and Paul Hollywood.
My review
Mary's foreword starts the book explaining what they were looking for in a winner and the format of the episodes.  Basically over two days we had to bake three times. Each week, there was a 'Signature Challenge' a 'Technical Challenge' and a 'Showstopper Challenge'.  The first was a personal or family favourite that was individual and creative. The latter was a 'wow factor' bake as Mary calls it. We were given the type of bake and the quantity but flavours and presentation was all our own. The technical challenges were set by Mary and Paul and as she says 'no two bakes turned out the same'.
Paul's foreword gives some great tips including one I took away at audition stage – get an oven thermometer because 'ovens can be notoriously unbalanced'. he also suggests good digital scales and says that 'if you weigh up your ingredients correctly then you are half way the way to baking something great'.
The book is split into eight chapters which more or less represent the episodes in the series.  At the beginning of each, there are plenty of hints and tips to help you succeed. From basics such as preparing the oven and using the right sized pie dish to advice for seasoned bakers on how gluten works. All the chapters have great photography of how the recipe should turn out but sometimes also what key stages should look like. Oh and of course there are photos of all of us contestants – look out for mine on page 256!
First off is cakes with a step by step guide to making Mary's Coffee and Walnut Battenburg which was our first technical challenge.  I loved that challenge despite the fact I'd never made one before – in fact as I said on the show, I'd only really seen one on Eastenders made by Dot for her husband Jim! I love Dot.
The second chapter is on biscuits but also includes macarons and traybake recipes. My favourite are the Stem Ginger Shortbreads, Florentines and of course the Brandy Snaps that were the technical challenge in week 4.
The third chapter is on bread and Paul starts that off with a step by step guide to his Focaccia.  The pictures really don't get across the wetness of the 'dough' which Paul says is more like a batter in consistency.  It really was quite scary making it on the show!  There are also recipes for Black Olive and Thyme Bread, Sticky Buns, Monkey Bread and Rum Babas – all of which I have yet to try.
Next the book moves on to pies which to be honest I was dreading as I am not a pie  fan. I am however tempted by the Three Cheese and Spinach Pie. I love cheese. This section also has a lot of the quiche recipes from the show and a lovely easy recipe called Mushroom and Gorgonzola Twists.
Tarts and sweet pastry is next and by far the best recipe in this section is for Elderflower and Honeycomb Tarts but the Sticky walnut Tart looks good too.
We are then treated to a patisserie chapter covering off the much feared puff pastry and choux pastry.  I used the choux pastry recipe from this book in my Rose Profiteroles.
Puddings and desserts shows how to make perfect Meringues with step by step photos, cheesecakes galore, mousse cakes and of course Mary's Chocolate Roulade.
For those that like to show off there is a celebration cakes chapter at the end with a traditional Christmas Pudding, Simnel Cake and Pannetone but also lots of decorative ideas to try out like Sugar Roses or Sugar Petals.
One of my favourite pages is right at the end (pg 310) on sponge ingredients for different sized tins.  This such a useful at a glance recipe so you don't need to spend time working out the maths. I hate maths.
Overall this is a brilliant baking book which is a must buy for any cookbook shelf.  It doesn't matter what kind of baker you are, I think you'll learn something new and be able to challenge yourself with recipes you won't have tried.  I'm giving away two copies. enter before 31st October!
Book details
Hardcover: ISBN: 9781849902687 : £20
Published by Ebury Publishing