These are wonderful little canapés.  I demonstrated them at The London Chocolate Festival recently and they were a big hit! I've filled them with raspberries in the recipe below but you could use any soft berry or fruit.
They are topped with an easy chocolate ganache.  If you're put off by ganache, give this version a go. It's much easier than those that use cream and produces a really lovely thick and glossy topping for these little cups.  The measures below make approximately 12 cups and you'll need petit four/mini muffin cases – don't waste money on the foil version as the paper ones work just as well and you'll throw the paper away.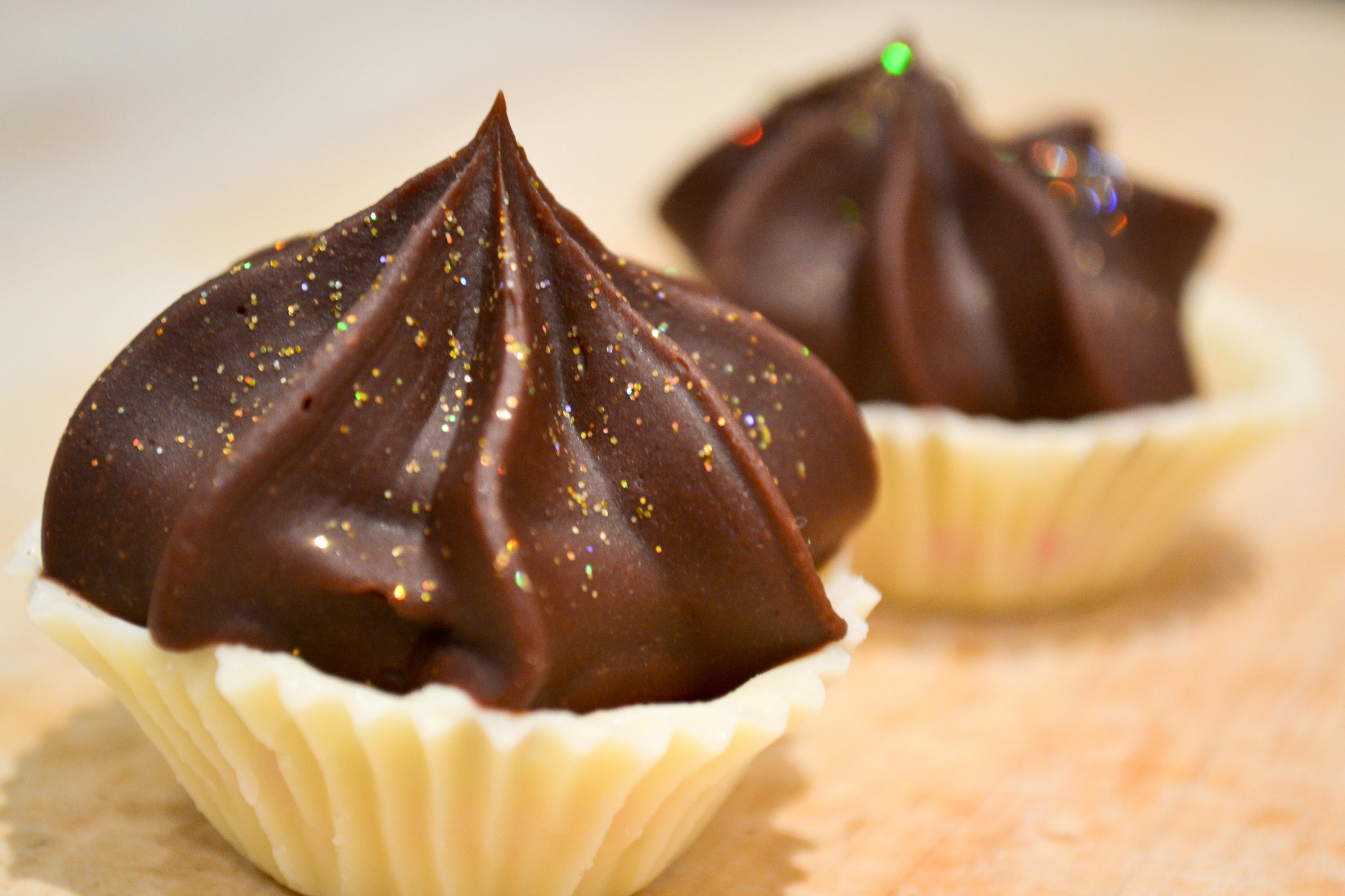 You'll need
100g white chocolate
100g dark chocolate
3 tbsp mascarpone cheese
fresh raspberries
Edible glitter – optional but adds wonderful sparkle for birthdays or Christmas!
Equipment
Paper Petit Four Cases
A piping bag fitted with a star nozzle – if you can't get one, don't worry. Just dollop a blob of the ganache carefully where it says to pipe below and plop a piece of walnut on top. Looks just a great!
To make them
Melt the white chocolate in the microwave or in a bowl over a saucepan of boiling water.  You need to get it so it's just melted and not very runny.  If it's runny, take it off the heat and let it cool to a thickish consistency before you start using it.
With a pastry brush or a thick paint brush, coat the inside of each of the petit four cases with a layer of white chocolate.  It's rather fiddly but worth it so allow a few practice cases and don't worry if the inside is messy.  People will only see the outside.
Put the cases in the fridge to cool for about half an hour.
In the meantime, place the chocolate in a bowl of boiling water so it doesn't harden up.
Take the cases out of the fridge and then do another layer of white chocolate.
Put them back in the fridge to harden completely – about and hour at least.
Take the cases out of the fridge and then peel the paper off carefully so the hardened chocolate doesn't break.  You can now fill them or pop them back in the fridge til you are ready to fill them. They'll keep for ages.
Place a raspberry inside each white chocolate cup and then make the topping.
Melt the dark chocolate in the microwave or in a bowl over a pan of boiling water.  It should be just warm so it's not too runny.
Add the mascarpone and beat with a whisk til the cheese is combined. The consistency should be like buttercream so if it's thinner than that, leave it at room temperature until it has thickened up.
Scoop the mixture into a piping bag fitted with a star nozzle and then pipe little star bursts on top of your raspberries in the white chocolate cups.
Sprinkle over the glitter and you're ready to go!
If you are only making these for adults, you can put a tbsp of dark rum or Baileys into the ganache for a boozy version.  Enjoy and let me know how you get on and what variations you come up with.