I demonstrated these simple cups at the London Chocolate Festival and they were a real hit.  You can make the cups from pastry or shortbread.  I've given you both options below.
They can then be filled with caramel and topped with the simple mascarpone ganache like the one below or filled with curd and topped with meringue like my Blackberry Curd versions.  You can also fill them with a flavoured custard and and top them with a cute edible flower and some honeycomb.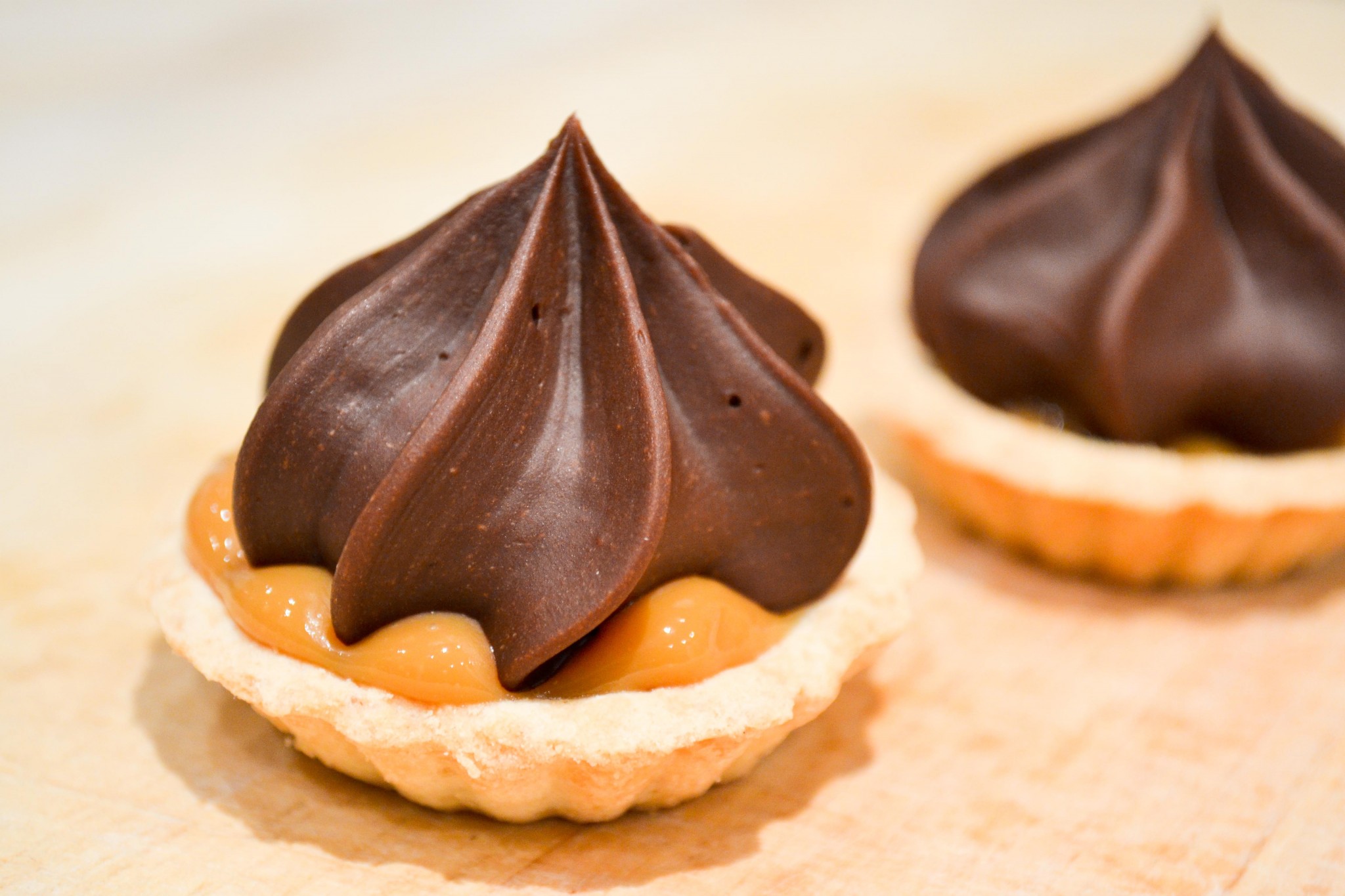 You'll need
For the pastry
200g plain flour, sifted
100g cold unsalted butter, diced
½ tsp salt
2 tbsp icing sugar
1 large free-range egg
1½ tbsp iced cold water
butter, for greasing
For the shortbread
50g soft brown sugar
125g soft unsalted butter
150g self raising flour
For the caramel
125g unsalted butter
75g soft brown sugar
50ml golden syrup
1 tin of condensed milk (395g)
For the mascarpone ganache
100g dark chocolate (80% cocoa solids)
3-4 tbs mascarpone cheese
To make them
For the pastry, place the flour, butter, salt and icing sugar into a food processor and pulse until the mixture resembles fine breadcrumbs.
Beat the egg and cold water together in a small jug and with the motor running and slowly pour the egg mixture into the flour mixture until it comes together to form a dough.
Remove the dough from the processor and knead lightly on a floured surface. Wrap in cling film and chill in the fridge for at least 30 minutes.
Preheat the oven to 150C. Grease a 12-hole tart tin with butter.
Roll the pastry out on a lightly floured work surface and using a fluted edge 7.5cm/3in biscuit cutter, cut out 12 circles .
Gently place the pastry circles into the holes in the tart tin, prick with a fork and bake in the oven for 10-12 minutes, or until golden-brown.
For the shortbread, put the sugar and butter in a Kitchenaid with a paddle attachment and mix til light and fluffy.
Add the flour until you get a dough form and knead lightly until smooth.
Grease a 24 hole mini muffin tin and preheat the oven to 180C.
Take a small lump of the dough (around 20g) and roll it into a ball.
Place the ball into one of the mini muffin holes and then push down to make a cup.  You need to use something with a rounded bottom like a pestle or a small rolling pin edge.
Make the rest of the cups in this way and then bake them for 20 minutes til golden brown.   Half way through, if the shortbread has puffed up, push it down gently with your fingers and pop the tray back into the oven for a few minutes.
Once the cups are made and cooled, you can make the caramel.
For the caramel, put all the caramel ingredients into a heavy bottomed pan on a low heat and stir until it's all melted and gloopey.  (If you don't fancy doing it this way just boil the tin of condensed milk in a pan of water for 2 hours or buy a tin or caramel!)
Let the caramel cool and then use it to fill the cups.
Meanwhile make the ganache topping by melting the chocolate in a bowl over a pan of boiling water or in short bursts in the microwave.
Leave it to cool slightly and then whisk in the mascarpone until you get a buttercream consistency.  If it's too runny, leave it at room temperature for a while and it will thicken up.
Spoon this into a piping bag with a star shaped nozzle and pipe little blobs onto the caramel cups.
That's it! A really easy canape for any occasion.  You can even add some edible glitter on top for a little more sparkle!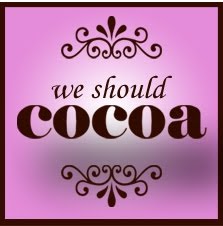 I entered these into Chocolate Log Blog's We Should Cocoa Blogging Event