I love courgettes at any time of year and this quick dish combines them with lemons and herbs to make a great canapé filling.  If you don't fancy making puff pastry, use shortcrust pastry or even toasted ciabatta pieces.  The courgette filling can be made a few days in advance and kept in the fridge.  Don't freeze it as the courgettes will go squishy as they defrost.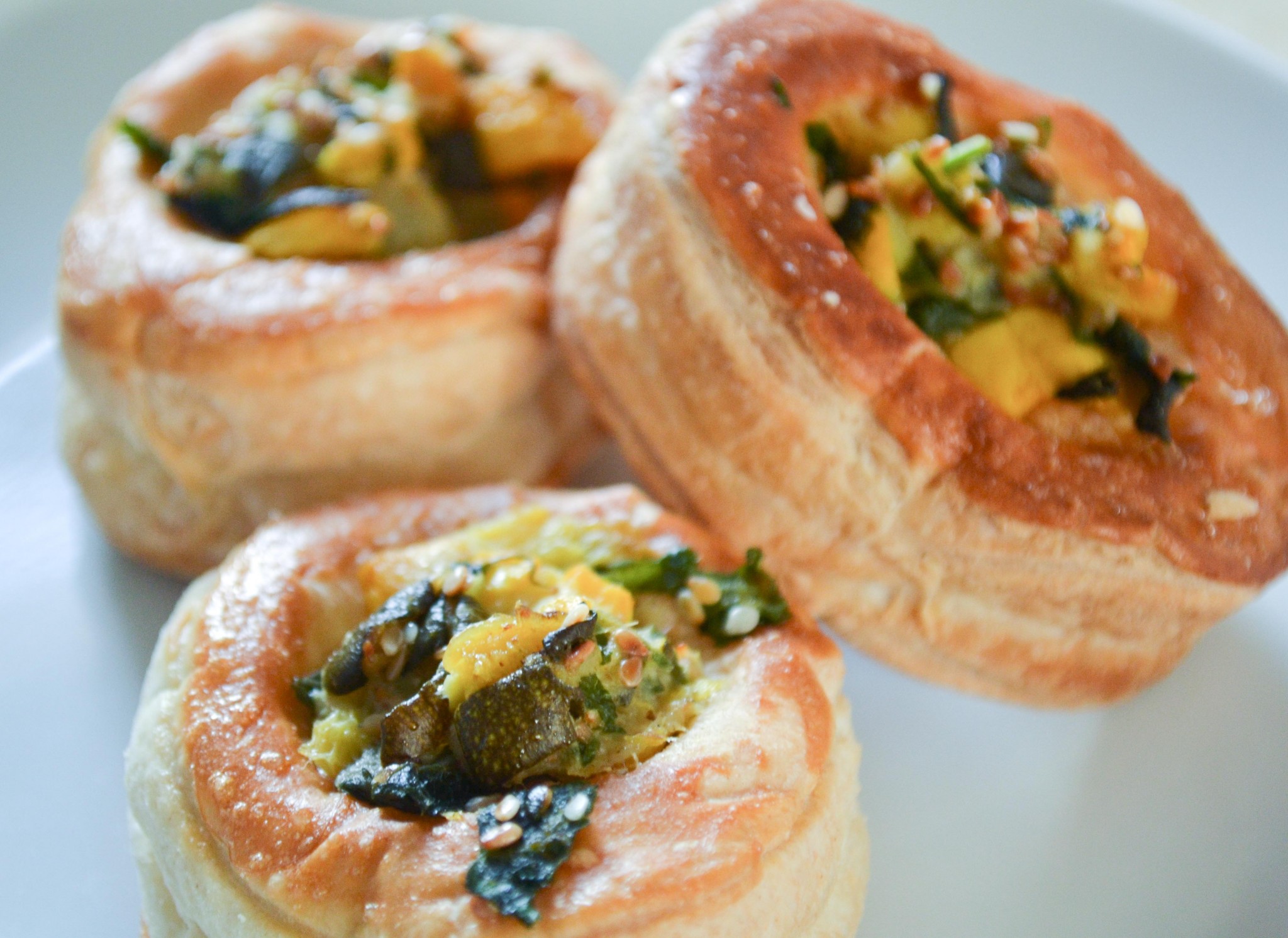 You'll need
1 packet of ready made puff pastry or 2 packs ready made vol au vent cases
1 tbsp olive oil
2 cloves garlic
2 large courgettes (around 400g)
half bunch flat leaf parsely
half bunch fresh mint
1 lemon – juice and zest
1 tsp ground cumin powder
1 tbsp sesame seeds
Salt and pepper to season
To make them
Preheat the oven to 180C and grease 2 mini tart trays – the ones used for jam tarts.
Roll out the pastry to about 5mm thick and then cut out 7.5cm circles for your greased tray.
Prick each circle lightly and bake for about 10-15 minutes until they are golden brown.  If you are using the ready made vol au vents, just follow the instructions on the packet but they are equally quick.
To make the filling, first toast the sesame seeds lightly and then set aside to cool.
Crush the garlic, chop the herbs and cube the courgettes and set aside.
Heat the olive oil in a wok or pan on a low heat and add the garlic without letting it brown.
Then add the cubed courgettes and cook over a medium heat for a few minutes seasoned with salt and pepper to your taste.
Add the cumin, lemon zest and juice, cover and simmer gently for a few more minutes til the courgette is tender.
Turn off the heat and stir in the chopped herbs.
Place a little of each mixture into the pastry or vol au vent case and sprinkle over some sesame seeds.
If you want to make this richer, add a little mascarpone to the bottom of the puff pastry case before adding the courgettes on top.  If you have a bit more time or don't like frying, cut the courgettes into two halves sprinkled with olive oil and lemon juice and roast for about 15 minutes at 200C, then chop into cubes.
Carrots with ground coriander work well using this method too.  You might also like the Baby Beetroot Bites.
I'm sure you'll come up with more combos so remember to leave me a comment below and share!