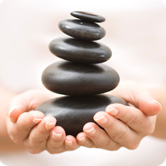 There has been lots of talk today about New Year's resolutions.  I don't make them.  For many years now I have simply tried to live a balanced life.  To me "balanced" means the following:
Harmony in the relationships I hold to be important. Truly there are only really three relationships in my life that are essential. My 'must have right' relationships.  Those with my husband and two daughters. When cracks in these appear, everything else starts to break too.
Equilibrium between time at work and time with family. Some call this a work life balance but to me it's more than that. It's not about making sure there is balance of time spent between the two but that the time spent is adding value to my life in some way – growing my life, challenging me and making me live more. (And living more isn't always living better). 
A partnership between food and exercise. I love food. I love food that doesn't contain anything that is "good for me" but it makes me feel great and feeling great is important for good health too.  So I eat it and make sure I do the right type of exercise to counteract any potentially harmful effects.
I have learned to understand the triggers that will lead to imbalances in these three areas and been brave enough (most times) to make the changes I need to to get my scales level again.
I know this isn't a baking related post nor a botanical one but some of these thoughts are what sparked off this blog and many of the things I did in 2011.  I know 2012 will be a tough year because of some 'balancing' I've done recently but I also know it'll be one of change and new life experiences and so I'm looking forward to it.
Happy New Year everyone xx