This is one of the best brownie/blondie recipes I have ever made. It's adapted from Dan Lepard's Short and Sweet book (of which I have a SIGNED copy!).  If there is one banana recipe you make, it has to be this one.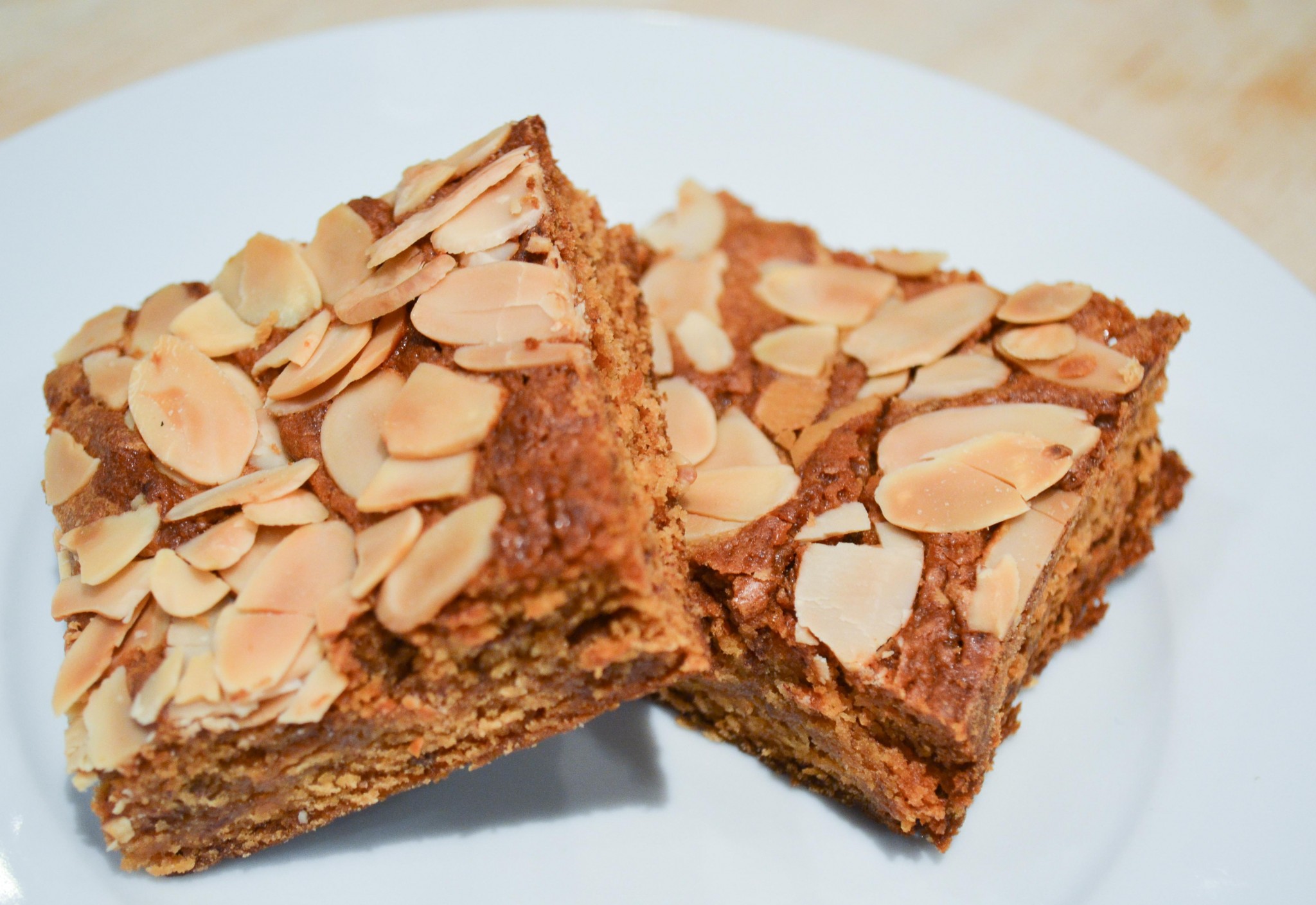 You'll need
For the butterscotch bananas
150g caster sugar
50ml water

2 – 3 medium sized bananas (approx 225g) 

15g soft unsalted butter

2 tsp vanilla extract
For the brownies
225g caster sugar
100g soft unsalted butter
200g good quality white chocolate
225g plain flour
1 egg
2 tsp vanilla extract
1/4 tsp baking powder
150g flaked almonds

To make them
Preheat the oven to 190C and grease a 20cm/25 cm square cake tin.
First make the butterscoth bananas.  Slice the bananas and set aside.
Put the caster sugar and water into a pan and bring it to the boil.
Let this cook on a low heat until the sugar turns a caramel colour and then add the butter, vanilla extract and chopped bananas.
Cook this on the low heat until the bananas break up the caramel.  Spoon them onto a plate and leave them to one side to cool.
To make the brownies melt the chocolate and butter in a bowl over a pan of simmering water.
Scrape this into another bowl and leave to cool slightly.
Add the caster sugar and vanilla extract and mix til it's a smooth batter.
Sift the flour and baking powder into the batter and then fold it in well.
Stir in the butterscotch bananas and then pour this mixture into the cake tin.
Sprinkle over the flaked almonds and then bake for 35 minutes.  It should be a little wobbly because this is the gooeyness once it has cooled.
Leave it in the cake tin to cool completely before you slice it up into square pieces.
We had these with a dollop of soured cream and they were so yummy we had to make another batch straight away!  We also added some dried cranberries in another batch which worked really well too.