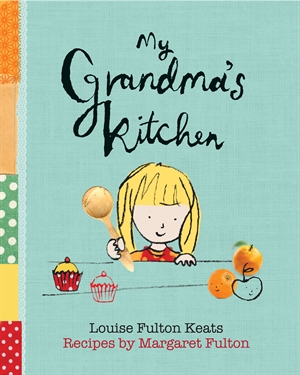 This book is inspired by Louise's childhood growing up in her grandmother's kitchen.
About the author
Louise is a graduate of Cordon Bleu Cookery School and like me, has a passion for helping children develop a love of food. Her Grandmother Margaret who wrote the recipes for this book, is one of Australia's most respected cookery writers.  She sounds much like our very own Mary Berry!
The book is very simply split into recipes for breakfast, lunch, afternoon tea and dinner.  There is a wonderful blend of photography and illustration in this book in a Charlie and Lola style that makes this book a wonderful read.  My 7 year old daughter, Amy, quite enjoyed reading this without doing any of the cooking as there is a little puppy that interacts with the Lulu, the narrator, and Harry, her brother.   The language is very simple and engaging for children and all the measures are in cups and spoonfuls whereever possible/
The recipes are simple and include a mix of those children and parents are likely to know as well as other's which are not traditionally perceived as "child friendly".  I like this mix because it helps to introduce children to "adult" food in a very familiar way.
For example, my children are used to having porridge with fruits and nuts but had never tried Bircher Muesli.  Not sure why as my husband and I love it! The ingredients were familiar and after reading and measuring everything out herself, Amy happily ate a bowlful and invented her own combinations.
This is the same for the peach smoothie.  We didn't have any peaches so we used our blueberries.  Such a great way of getting healthy botanicals and calcium into children who have given up a daily bottle or glass of milk.  
My girls love poached eggs but as yet I have not let them cook these because I'm not quite confident about them cracking eggs over boiling water on their own.  With the Eggs in Ramekins recipe, they made their own in little recycled Gu Pudding pots!
The recipes are written very simply and older children could make many of these on their own under your supervision.  My girls cook on their own every weekend and if this is something you are keen to encourage with your own little ones, then this book is a perfect starting point.  For example, my eldest daughter Amber made Pink Pavlova by herself following this recipe and using our KitchenAid.  She really enjoyed seeing the mixture change consistency and then experimenting with the pinkness.  Imagine the fun at Halloween with green!
This book is perfect for primary school aged children and parents wanting to take that first step towards raising children to be confident cooks and eaters.    Hope you'll have lots of fun with it.  Listen to what my daughter Amy thought of it…
[gigya src="http://boos.audioboo.fm/swf/fullsize_player.swf" flashvars="mp3=http%3A%2F%2Faudioboo.fm%2Fboos%2F655950-amy-s-review-of-my-grandmas-kitchen.mp3%3Fsource%3Dwordpress&mp3Author=BotanicalBaker&mp3LinkURL=http%3A%2F%2Faudioboo.fm%2Fboos%2F655950-amy-s-review-of-my-grandmas-kitchen&mp3Time=05.30pm+06+Feb+2012&mp3Title=Amy%27s+review+of+My+Grandmas+Kitchen" width="400″ height="160″ allowFullScreen="true" wmode="transparent"]
Recipes
I made the Oat and Raisin Cookies below for my Afternoon Tea event at Pipedream Restaurant for the children and Amy made them with step by step pics for The Great British Baking Club.
Book details
Hardcover ISBN 9781742701141: £12.99 
Published by Hardie Grant Books
Louise's details
Twitter : @LFultonKeats
Web: www.mygrandmaskitchen.com.au
To enter a giveaway for a copy of this book, simply leave a comment below and for an additional chance, tweet  "I've entered the @BotanicalBaker giveaway for My Grandma's Kitchen".  Closing date Friday 10 February 2012.