This is a really easy Austrian cheesecake recipe that a friend of mine gave me at University.  There is no biscuit base like the American style cheesecakes.  If you can try to get Quark cheese as it has a sour taste which gives a nice flavour to the cake.
I've used apricots in this recipe but you could use whichever fruit you prefer.  It's a really simple base recipe that always produces consistently gorgeous results.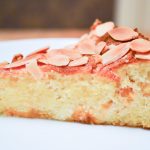 Print Recipe
Apricot Cheesecake
Servings: 8 slices
Notes
You'll need
 60g soft unsalted butter
140g caster sugar
280g cream cheese
60g ground almonds
60g fine semolina
2 eggs
1 tsp vanilla extract
1 small lemon
10 apricots
Handful flaked almonds
20cm cake tin
To make it
Preheat the oven to 190C.
Grease and line the cake tin with greaseproof paper.
Separate the eggs and set aside.
Zest and juice the lemon and set aside.
Chop the apricots (skins on) into small cubes and set aside.
Measure out the butter, sugar and cream cheese together and beat until light and fluffy.
Beat in the egg yolks and set aside.
Now whisk the egg whites til you get stiff peaks. You should be able to hold the bowl over your head without anything dropping out!
Fold in the ground almonds, semolina, vanilla extract, lemon juice and zest into the cream mixture.
Now fold in the egg whites.
Pour half the mixture into the tin, then pile in half of the chopped apricots and then pour in the rest of the mixture.
Level out the top, toss over some flaked almonds and then bake for 50 minutes.
While it is baking, make the apricot purée.  Simply heat the remaining apricots with 2 tbsp of water until they are all mushy and melted.
Then purée to remove any lumps.
Once the cheesecake comes out of the oven let it cool for about 15 minutes in the tin and then on a wire rack.  It should be completely cold before cutting.
Serve a slice of cheesecake with a dollop of crème fraiche and a drizzle of apricot purée. Yummm!