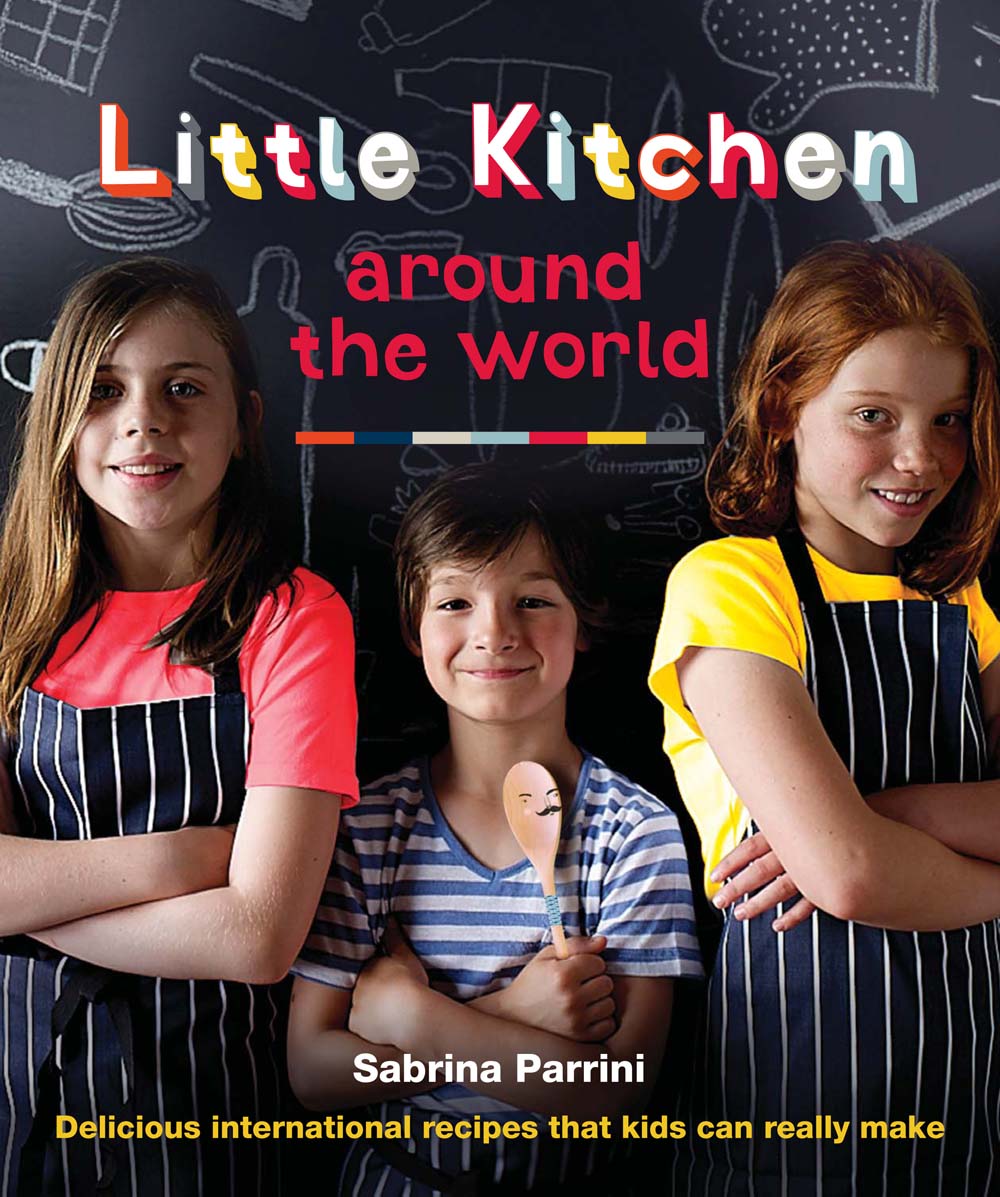 About the author
Sabrina Parrini has a background in early childhood teaching and launched Australia's first organic cooking school and party venue.  She now demonstrates her skills and recipes at food fairs and plans to revolutionise the way that people look at children's health and wellbeing.
About this book
This book is aimed at 8 – 12 year olds and was perfect for my Amber aged 9.
The introduction has a great section called "Safety first" which outlines oven safety and some basic guidelines for parents. If you are not used to cooking with your children or are looking for a some guidelines of how to be involved without getting involved, there are some good tips here.  Amber and I read this together and talked about what she knew and didn't already know.  We also went through the section on utensils and made sure she knew where each of them lives in our kitchen.  This helps with tidying up!  There is a great section at the end called "Cooking Downloads" which explains techniques and terminology such as "julienne" and "blind baking".  Amber was familiar with most of these terms as she has watched me follow recipes since she was in a high chair.  She still enjoyed  name dropping them into conversations and now always asks the waiter at our favourite Italian if her pasta will be "Al dente" .
The recipes are split into suggestions for Lunch, Dinner, Sides, Biscuits and Cakes and Desserts.  I guess this is to make the budding chef think about what would work well if they were making a full meal using the book.  Examples include Moussaka, Mushroom Quiche (with blind baking!), Prawn and Tomato Paella (see below), Spinach and Ricotta Cannelloni, Devils Food Cake and Mini Pavlovas with Passion Fruit Curd.
The recipes all have a rating indicating the level of difficulty as well as little facts about the countries mentioned in the book and a world map.  There is a real multi cultural feel about this book which may put some children off as the ingredients or tastes may not be familiar.  Amber eats pretty much everything we give her and is very used to foods from different places and different eating styles so she wasn't phased by this.  Conversely if you are looking for a way to get your children interested in eating different kinds of foods, this book could help with that learning.
Listen to what my daughter thought…
[gigya src="http://boos.audioboo.fm/swf/fullsize_player.swf" flashvars="mp3=http%3A%2F%2Faudioboo.fm%2Fboos%2F655927-amber-s-review-of-little-kitchen.mp3%3Fsource%3Dwordpress&mp3Author=BotanicalBaker&mp3LinkURL=http%3A%2F%2Faudioboo.fm%2Fboos%2F655927-amber-s-review-of-little-kitchen&mp3Time=05.08pm+06+Feb+2012&mp3Title=Amber%27s+review+of+Little+Kitchen" width="400″ height="160″ allowFullScreen="true" wmode="transparent"]
Book details
Hardcover: ISBN: 9781742700434
£7.86 on Amazon at time of writing
Published by Hardie Grant
Sabrina's details
Twitter: @SabrinaParrini
Web: http://www.littlekitchen.com.au 
To enter a giveaway for a copy of this book, simply leave a comment below and for an additional chance, tweet  "I've entered the @BotanicalBaker giveaway for Little Kitchen Around The World".  Closing date Friday 10 February 2012.